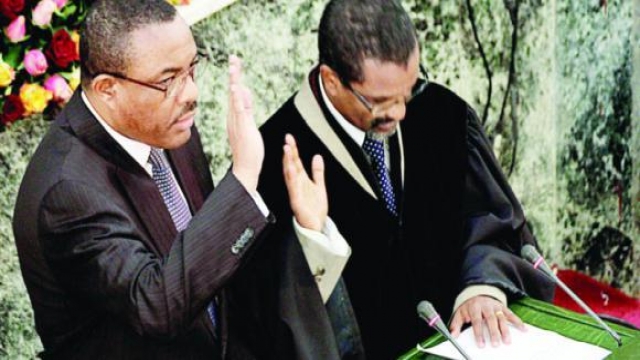 On 21 September 2012 Hailemariam Desalegn was sworn in as Ethiopia's prime minister. He was regarded as a compromise candidate and many Ethiopians expected more political freedom. 100 days on, hope is fading.
A few days before Ethiopia's new prime minister, Hailemariam Desalegn, was sworn in, the Ethiopian government pardoned 2,000 political prisoners.
Desalegn's inauguration coincided with the Orthodox New Year which falls in September. At the same time the Ethiopian government started negotiations in Kenya with the Ogaden National Liberation Front (ONLF), a separatist group based in the eastern part of the country.
The Ethiopian government classifies the armed wing of ONLF as "terrorists". When the new prime minister hinted at the prospect of peace talks with arch rival Eritrea, many Ethiopians believed they were finally entering a new era of political sunshine.
The 47-year-old engineer and father of three daughters, is considered moderate and affable, compared to Meles Zenawi, Desalegn's charismatic predecessor. Zenawi ruled the country with an increasingly iron fist following the bloody 2005 elections.
A technocrat, Hailemariam Desalegn was a former provincial governor, foreign minister and deputy prime minister. He was also one of the closest confidants of Zenawi. Since he comes from one of Ethiopia's smallest ethnic groups, the Wolayta, many saw Desalagn as the best compromise candidate in the midst of political and economic infighting between the dominant Amhara, Oromos and Tigreer ethnic groups.
—
Related:
Video: PM Hailemariam on Peace and Eritrea (Al Jazeera)

—
Join the conversation on Twitter and Facebook.