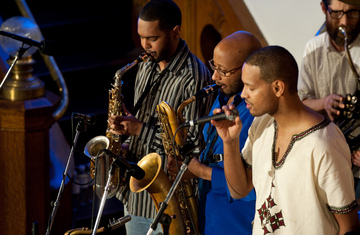 Above: From left, alto saxophonist Abye Osman, Debo Band
founder Danny Mekonnen, and vocalist Bruck Tesfaye. (Photo
credit: H. Asrat)
Tadias Magazine
By Tadias Staff
Published: Wednesday, January 6, 2010
New York (Tadias) – The Ethio groove ensemble known as Debo Band, whose signature music explores the unique sounds that filled the dance floors of "Swinging Addis" in the '60s and '70s, has won the Boston Music Awards' under the category of "International Music Act of the Year."
The Boston Music Awards, having recently celebrated its 22nd year, is the most prestigious annual music event in Boston. The BMA website points out that the program pays "tribute to the region's finest musicians."
For jazz saxophonist Danny Mekonnen, a PhD candidate in Ethnomusicology at Harvard University and founder of Debo Band, the coveted recognition has garnered excitement.
"It was a huge surprise for us. We really didn't expect the recognition because there were several great local bands in the category, 'International Music Act of the Year,'" Danny said. "But somehow we got the attention of the judges (who are Boston-area promoters and music critics) and were also able to garner votes from our fans. I think it will mean more widespread attention for our band throughout Boston, which we've already seen at our last few concerts. They have been well attended even in blizzard-like weather!"
The group surfaced from Boston's underground after playing in major festivals in 2009, including making an appearance at the Ethiopian Music Festival in Addis Ababa. Danny told Tadias Magazine that the band is gearing up to make a return trip to Africa in 2010.
"Yes, we've been given the incredible opportunity to bring Ethiopian music for the first time to East Africa's largest music festival: "Sauti za Busara" on the island of Zanzibar, February 11th-16th, 2010," he said. "For our performance at the festival we'll be joined by four brilliant musicians and dancers from Fendika, an azmari bet in the Kazanchis area of Addis Ababa: Selamnesh Zemene (vocalist), Melaku Belay (dancer), Zenash Tsegaye (dancer), and Asrat Ayalew (drummer). Your readers may know Melaku, who was the dancer at the incredible Getachew Mekuria/The Ex concert at the Lincoln Center in August 2008."
The Debo Band is currently raising funds to cover travel expenses for 15 musicians to attend the Sauti za Busara festival.
Danny also shares one more bit of good news: "My wife and I have a beautiful newborn girl. Life has been very hectic these days, but we feel blessed."
We congratulate Danny and look forward to Debo Band's first album.
—
Learn more at: deboband.com.
Video: Help Debo Band Return to Africa

Tadias TV Interview with Danny Mekonnen