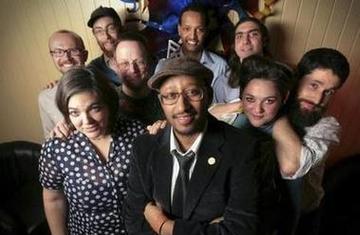 Above: Front, left to right – Stacey Cordeiro, Danny Mekonnen,
Kaethe Hostetter, Arik Grier; (rear, left to right) P.J. Goodwin,
Keith Waters, Dave Harris, Bruck Tesfaye, Jonah Rapino.
(Aram Boghosian for The Boston Globe)
The Boston Globe
By James Reed
January 10, 2010
CAMBRIDGE – Just before midnight on a brisk night at the Western Front, an unassuming club outside Central Square, a refreshing scene is unfolding. Soon after a handsome man croons a love song in Amharic (Ethiopia's official language) over the band's chunky '70s funk riffs, a rapper gets up on stage and drops fluid rhymes also in his native tongue. Other times the musicians lock into long instrumental grooves solely in service to the party vibe. Read more.
Video: Help Debo Band Return to Africa

Related from Tadias:
Debo Band Wins BMA's International Music Act of the Year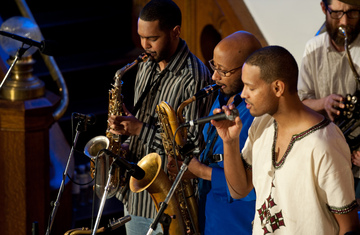 Above: From left, alto saxophonist Abye Osman, Debo Band
founder Danny Mekonnen, and vocalist Bruck Tesfaye. (Photo
credit: H. Asrat) Click here to read the story.