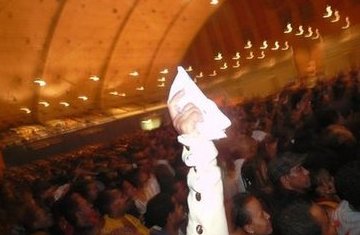 Above: The crowd at Teddy Afro's U.S. tour kickoff concert on
Saturday, January 2, 2009 at the D.C. Armory. (Bekalu Biable)
Tadias Magazine
Events News
Published: Saturday, Januray 9th, 2009
New York (Tadias) – Teddy Afro launched his 2010 U.S. tour on Saturday, January 2, 2009 at the D.C. Armory.
The sold out show marked the start of Afro's first American tour since he was freed early from prison in August after serving 18 months of a two-year sentence for a hit-and-run incident.
The singer, who has been dubbed "Ethiopia's Bob Marley" and the voice of "Ethiopia's conscience," paid a moving tribute to legendary Ethiopian singer, the late Tilahun Gessesse, at the event.
Teddy Afro plans to make concert appearances in several cities in the United States, according to promoters.
Video: Teddy Afro Concert 2010 in DC (Posted by Milliano Promo)

Video: Teddy Afro Concert 2010 in DC (Posted by Milliano Promo)

Slideshow: Teddy Afro concert at the DC Armory (Saturday, January 2, 2009)