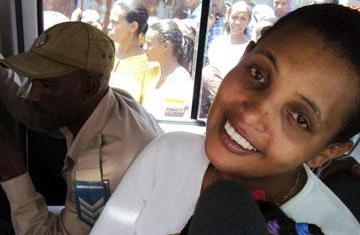 Above: Almaz Gebregziabher and her granddaughter, Halley,
hold a photograph of Halley's mother, Birtukan Mideksa, who
has been likened to Burma's Aung San Suu Kyi in her fight for
democracy. (Photograph: Xan Rice)
Guardian
Xan Rice in Addis Ababa
Saturday 9 January 2010
At noon every Sunday an old Toyota sedan donated by supporters of Ethiopia's most famous prisoner pulls up near a jail on the outskirts of the capital. A 74-year-old woman in a white shawl and her four-year-old granddaughter – the only outsiders the prisoner is allowed to see – step out for a 30-minute visit. Most inmates at Kaliti prison want their relatives to buy them food. But Birtukan Mideksa, the 35-year-old leader of the country's main opposition party, always asks her mother and daughter to bring books: an anthology titled The Power of Non-Violence, Bertrand Russell's Best, and the memoirs of Gandhi, Barack Obama, and Aung San Suu Kyi, the Burmese political prisoner to whom she has been compared. Read more.