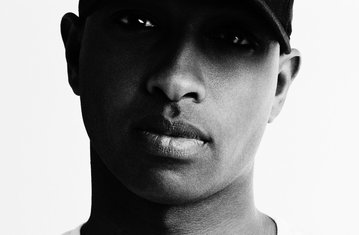 Tadias Magazine
By Tseday Alehegn

Published: Friday, January 8th, 2010
New York (Tadias) – Grammy-nominated Ethiopian-American musician Kenna (né Kenna Zemedkun) is leading a team of friends including Jessica Biel, Lupe Fiasco, Isabel Lucas, Elizabeth Gore, and Alexandra Cousteau to climb Mount Kilimanjaro, Africa's highest peak and one of the world's largest stratovolcanoes, in an effort to raise more awareness about the global clean water crisis. Today marks Day 1 of the journey. The climb aims to raise funds for The Children's Safe Drinking Water Program, United Nations High Commissioner for Refugees (UNHCR) and PlayPumps International.
You can follow the climbers' progress through their highly interactive site Summit on the Summit (SOTS) as they post photos & video clips and tweet their way to the top. According to a BNC-issued press release "The on-the-ground base camp in Africa, will also be outfitted with high- powered HP PCs to help track each climber's progress, monitor weather conditions, and capture every aspect of the ascent. Throughout the climb, the team will use HP thin-and-light notebooks to communicate and share photos as well as videos from Mt. Kilimanjaro with fans on www.summitonthesummit.com." A documentary of Summit on the Summit will also be aired on MTV on March 14th, 2010.
Over a billion people worldwide currently do not have access to clean and safe drinking water. You can join the SOTS effort by donating to their 'sponsor a foot' campaign online.
We sent Kenna a few questions about music, his interest in the global water crisis, and his inspiration for the climb. Below are his responses from base camp in Tanzania.
TADIAS: Tell us a bit about youself. Where you grew up? who/what were the main influences in your life? How you got involved in music?
Kenna: Born in Addis, raised in USA. My father is a major influence, but musically it was MJ and is U2. I went to high school wih the Neptunes… God hooked it up.

TADIAS: You mentioned that Summit on the Summit was inspired by the health challenges that your father faced. Can you elaborate?
Kenna: I relate to the water issues through my dad. I was born in Ethiopia but raised in both the inner city and the suburbs of America where water has not been a direct issue for me. Although water is an issue in America, my connection with it is from the fact that my dad suffered as a child from water-bourne diseases. When he told me about his ailment as a child, it really struck a chord and triggered the development of SOTS. But my dad has always encouraged me in being a good citizen and gave me plenty of opportunities to be involved with non-profits. I have been blessed to be a part of the development and curriculum for non-profit projects in my community. If he hadn't survived, I wouldn't be here. That is what resonates with me.
TADIAS: Why did you pick Mount Kilimanjaro as the challenge?
Kenna: Because it takes serious effort to do this. It takes serious commitment. We needed to do something extreme to highlight such an extreme human rights issue.

TADIAS: What are you taking with you on this climb for inspiration?
Kenna: I have a note from my dad that says he "knows of my ability to elevate myself through conscious moves." And that he is proud of me.
TADIAS: What message would you like to share with our readers?
Kenna: It is our time to show the true power and beauty of our culture. We have an inheritance of greatness. Rise up and be counted. It is now. It is today. We are God's people. Let the world know.
Watch: Kenna's Speech about Summit on the Summit