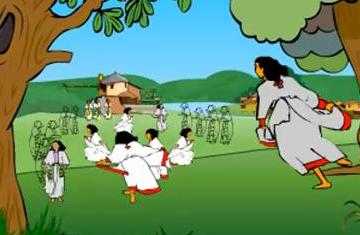 Above: A screen shot from an animation video capturing the
festive spirit of Genna (Ethiopian x-mas) celebrated on Jan 7.
Tadias Magazine
By Tadias Staff
Published: Friday, January 7, 2011
New York (Tadias) – Today is Christmas for followers of the Orthodox and Coptic Christian traditions around the world including in Ethiopia, Egypt, Greece, Russia, Ukraine, Serbia, Syria, and India. The birth of Jesus is observed 13 days after December 25, in accordance with the Julian calendar.
One of our readers submitted the following animation video, which captures the day's festive Ethiopian spirit. Wishing our readers Melkam Genna and a Happy New Year!