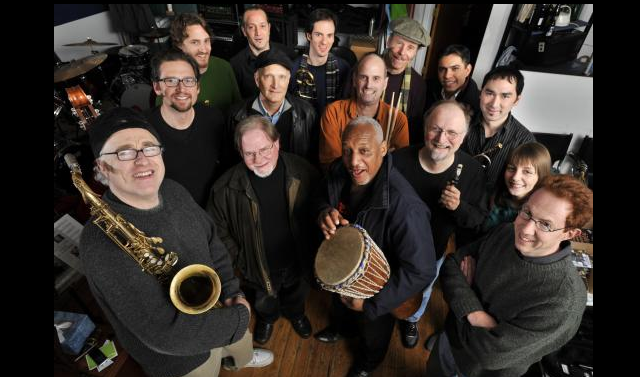 Tadias Magazine
Events News
Published: Wednesday, Januray 12, 2011
New York (TADIAS) – Either/Orchestra, the Boston-based jazz band that popularized Ethiopian music in the United States through collaboration with legends such as Mulatu Astatke, Mahmoud Ahmed, Alemayehu Eshete, Teshome Mitiku and saxophonist Getatchew Mekurya, will celebrate its 25th anniversary at Le Poisson Rouge in New York City on February 11.
"The show at Le Poisson Rouge will be a special occasion, the spirited union of several generations of musicians, ranging from 20 to 56 in age, from all over the U.S. and Latin America, who collectively make up the ongoing endeavor known as the Either/Orchestra," the band said in a press release.
"An added bonus will be legendary Ethiopian singer Teshome Mitiku, who began collaborating with the E/O in a headlining performance at last September's Chicago Jazz Festival. Teshome was a member of the Soul Ekos, one of the most popular band in East Africa in the 1960s, and a pioneer in bringing American styles into Ethiopian music."
The event will feature more than two dozen musicians that have collaborated with the band over the years including John Medeski, Matt Wilson, and Josh Roseman, among others. Per the venue's website: "The concert will survey 25 years of original music, radical reinterpretations of jazz and pop tunes, and include a healthy dose of Ethiopian flavor, represented by the legendary singer Teshome Mitiku."
If you Go:
Either/Orchestra 25th Anniversary
February 11, from 7 to 10 pm.
New York's Le Poisson Rouge
Tickets are $20 in advance, $25 at the door.
Video: The Either/Orchestra with Ethiopian Singer Mahmoud Ahmed: Bemin Sebeb Litlash