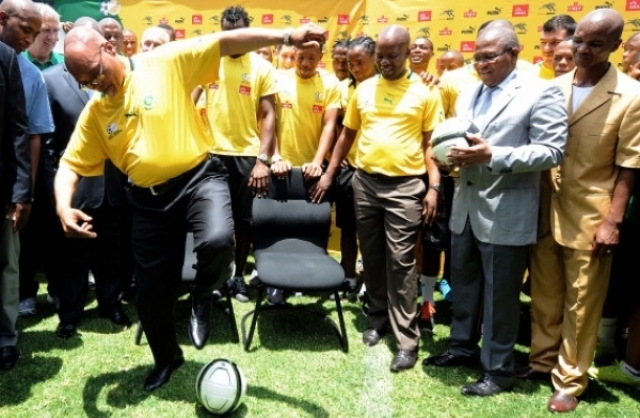 Tadias Magazine
News Update
Tuesday, January 15, 2013
Johannesburg – The 29th Africa Cup of Nations soccer games will commence on Saturday, January 19th at the National Stadium in Johannesburg with South Africa's team, Bafana Bafana, playing against Cape Verde.
The host team received a visit from President Jacob Zuma today. "Zuma took time off his busy schedule to give a word of encouragement to the national team as they go into battle with some of the best on the continent," the South African Football Association (SAFA) said in a statement.
The South African President dribbled a ball and held a private meeting with the players while also facing the media to address critics who say his country is not well-prepared for the continental gathering.
"Critics will always be there, some of them are paid to be critics and they are doing their job," Zuma said. "I think we have done our best. Bear in mind that this tournament was supposed to be in Libya, so this tournament was not given the normal time for preparations and people who are making criticism forget that."
Zuma added: "We had to start very late as a result of that. I am happy and I think we are ready and I think the country is ready. Fortunately, we have the facilities. We might not have done everything precisely because of how we got to host this edition but we are more than ready."
Bafana coach Gordon Igesund said his team is grateful for the visit. "It is a privilege when the number one citizen of the country comes to meet the players and give support," the coach said. "It is always important for the players and the whole team that he made time in his busy schedule to be with us today. We really feel honored."
Zuma displayed his soccer skills before he was given two Bafana Bafana jerseys by team captain Bongani Khumalo.
In Pictures: President Jacob Zuma Visits Bafana Bafana (Photos from the team's Facebook)

—
Related News:
Ethiopia aim high: Team Committed To Excelling At The Africa Cup Of Nations (KickOff.com)
—
Join the conversation on Twitter and Facebook.