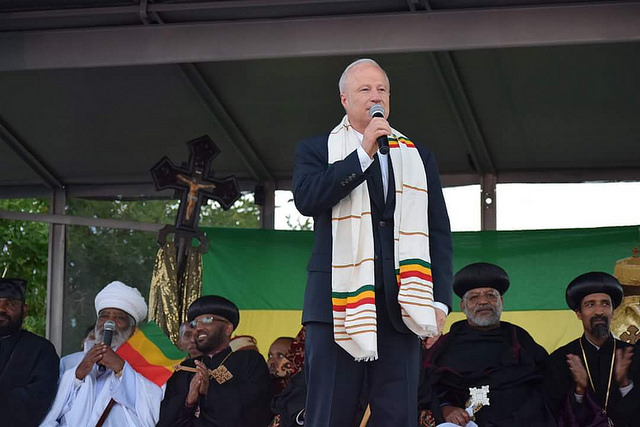 The scene could not have been more damaging for a public official: A TV camera rolling as Congressman Mike Coffman ducks out a side door of his own public event, fleeing around 100 members of the public— many of them there to grill him about what will happen if he successfully repeals Obamacare.
"He snuck out, and he snuck out early," two women are heard saying in a video for a broadcast on Denver's 9News that captured a crowd of frustrated Coloradans wanting to talk to the Congressman but left without access, nor answers to their concerns. Some shouted "open the door," and "This is what democracy looks like," when Coffman declined to meet with everyone at once.
Since the story about Saturday's event in Aurora, the news of a Republican congressman from Colorado being confronted loudly at a public event by people concerned about Obamacare repeal has spread into national media.
Watch: Congressman Coffman leaves frustrated crowd
AURORA – When Berthie Ruoff arrived at the Aurora Central Library to meet with Congressman Mike Coffman, she was hopeful to find encouraging answers about the impending changes to the Affordable Care Act.
"My husband passed away and the only way I was able to get insurance was through the Affordable Care Act, Obamacare," Ruoff said.
When she walked in, she saw a crowd she didn't expect.
"There were hundreds of people here," Ruoff said.
Kronda Seibert just wanted Coffman to hear her concerns. But, she ended up trying to organize the crowd that gathered outside the large community room.
"The representative didn't have a plan. They expected just a small handful of people to show up," Seibert said. "We were under the understanding it was a town hall meeting and they were only allowing four people in at a time."
Coffman's chief of staff, Ben Stein, sent a statement addressing what happened Saturday afternoon. The statement says the Congressman's community event was not a town hall.
Watch: Congressman Mike Coffman at Denver's 2017 MLK Parade Asked About the Incident:
—
Related:
In Colorado, GOP Congressman Mike Coffman Enjoys Ethiopian Support
Join the conversation on Twitter and Facebook.