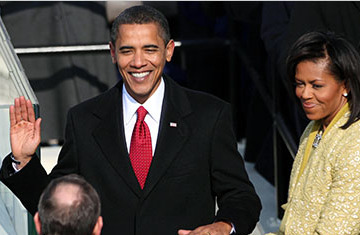 Above: Barack Obama is sworn in as the 44th president of the
United States during a ceremony at the Capitol by Chief Justice
John Roberts. (Doug Mills/NYT
CBNNews.com
January 20, 2009
Cheers of support for the new U.S. President Barack Obama echoed around the globe.
CBN's Chuck Holton was in Ethiopia during the moments of Obama's inauguration ceremonies. He commented on the response there.
"Everywhere you go you see people with Obama t-shirts. Everyone you pass asks you first if you're an American. If you say yes, they say Obama!" he said.
This reaction comes unexpectedly as Ethiopia is a conservative country.
Ethiopians openly declare their support for Obama based on his race, but possibly only in that area.
"The few times I've had the chance to talk about Obama's stand on various social issues, especially abortion, the two men that I've talked to have immediately changed their mind and said well if he's pro-abortion then I don't like him anymore," Holton said.
Click here to hear the interview.