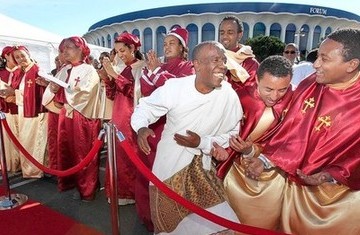 Above: Ethiopians reconnect with cultural roots in marking
Timket (Epiphany) in the largest such ceremonies in the U.S.
Los Angeles Times
By Kate Linthicum,
January 22, 2011
They were gathered last Sunday to mark Timket, the Ethiopian Orthodox celebration of the Epiphany. For the faithful, the holiday commemorates Jesus' baptism in the River Jordan and his revelation as the son of God.
Los Angeles' Timket celebration is the largest in the United States. It takes place over a January weekend each year in a parking lot outside the Forum in Inglewood.
Ethiopian immigrants flock from across the country and Canada to receive blessings from church bishops who wear elaborate beaded cloaks and full gray beards. Organizers say it may be the largest gathering of Ethiopians outside that nation in the Horn of Africa. Read more.
Photo: Choir members including Mengisthiu Mamo, Ashanafi Abebe, and Yemane Kassa, from right, sing and dance during a celebration of Timket. (Christina House/For The Times / January 22, 2011)
Video: 2010 Ethiopian Epiphany (Timket ) in Los Angeles