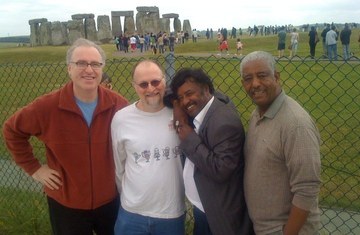 Tadias Magazine
By Liben Eabisa


Published: Monday, January 24th, 2011
New York (Tadias) – Saxophonist and Composer Russ Gershon is the founder and bandleader of Either/Orchestra (E/O), the large American jazz ensemble also known for its Ethiopian song selections and notable collaborations with musicians such as Mulatu Astatke, Mahmoud Ahmed, Alemayehu Eshete, Teshome Mitiku, Getatchew Mekurya, Tsedenia Markos, Bahta Hewet, Michael Belayneh, and Hana Shenkute.
As Gershon tells it, his first introduction to Ethiopian music came in 1988 when he heard Mahmoud's Ere Mela Mela. But he did not fall in love with Ethio-jazz until his encounter in 1993 with a compilation album entitled Ethiopian Groove: the Golden 70′s – produced by Francis Falceto as part of the Ethiopiques CD series on the French label Buda Musique.
Later, as a graduate student at Tufts University, Gershon named his masters thesis The Oldest Place, a string quartet inspired by the music and instruments of Ethiopia. His team eventually traveled to the country at Francis Falceto's invitation to perform at the 2004 Ethiopian Music Festival in Addis Ababa. Either/Orchestra became the first U.S. big band to appear in Ethiopia since Duke Ellington's Orchestra in 1973. The 2004 concert resulted in a remarkable double-disc set called Ethiopiques 20: The Either/Orchestra Live in Addis, which was described by critics at the time as "the best live album of the year—in any genre—and one of the E/O's finest albums."
Ethiopian music is just one of the many international sounds that E/O is known for. The band members are an eclectic bunch hailing from several countries, including the U.S., the Dominican Republic, Venezuela and Mexico. The ensemble experiments with various grooves, often mixed with Afro-Caribbean and African influences.
Gershon, who was born in New York in 1959 and grew up in Westport, Connecticut, credits his global taste in his youth to the time that he spent summers working for his grandfather in New York's Garment District, not far from the record stores and concert venues of Manhattan.
Either/Orchestra celebrates its 25th anniversary this year and will mark the event with a reunion show at Le Poisson Rouge in New York City on February 11th, 2011.
We recently interviewed Russ Gershon.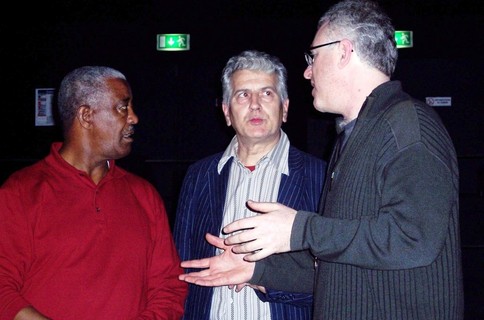 Above: Mahmoud Ahmed, Francis Falceto and Russ Gershon, Paris 2006.
Tadias: Please tell us a bit about how Either/Orchestra was first formed and
what kind of music you wanted to create/play.
Russ Gershon: I started the E/O in 1985 as a rehearsal band, never expecting to tour and make records, to have the fantastic adventure we've had. I was coming off of a year at Berklee College of Music, following several years of playing in fairly successful original pop bands, and I was just getting a handle on writing arrangements and understanding the techniques of jazz. I was a big admirer of Sun Ra's Arkestra, Gil Evans, and other unconventional large jazz groups, and wanted to do something like that. I should also add that I had been a radio DJ for many years, and was used to having all the recorded music in the world at my fingertips, trying to put together interesting combinations of music from all over the map.
So I invited a motley mob of musicians to come to my house and play music I was writing. Everybody had a good time, liked the music, and within a couple of months we had our first gig, in the children's room of the Cambridge MA public library. We were immediately semi-popular and just went from there, making albums and touring. I think my experience in pop and dance bands made me more aware than most jazz musicians of connecting with audiences.
Tadias: Your music infuses Caribbean, Latin American and East African beats, tunes, and rhythms with the free-flow of jazz. Would you consider yourself an international jazz band?
RG: The E/O is indeed an international jazz band in several ways: we have members from the US, the Dominican Republic, Venezuela, Mexico; we play music with many Afro-Caribbean and African influences, and of course we've gotten thoroughly involved with Ethiopian music. All American music has such a huge African component, through [African-Americans], so that the music of three continents flows naturally and easily together. I've also been a big fan of African music, starting with Fela Kuti, South African jazz and field recordings of traditional music.
Tadias: Over the years, you have worked with some of the best-known Ethiopian musicians. Who/what was the catalyst? How did you discover Ethiopian music?
RG: In 1988 I heard Mahmoud's "Ere Mela Mela" LP and it made an impression, and I heard Aster Aweke live in about 1990, but I really fell in love with Ethiopian music in 1993 when a friend brought back the compilation "Ethiopian Groove: the Golden 70′s" from France, where Francis Falceto had assembled it from some of the best tracks recorded in Addis at the end of the imperial period. I loved the horns, the passionate singing, the modes, the way it took American influences and spiced them with musical berbere, making something familiar and new at the same time.
After a couple of years I started arranging Ethiopian songs as instrumentals for the E/O, and both the band and the audiences loved it immediately. Teshome Mitiku heard our recording of his song Yezamed Yebada, and called me up, we became friends. Soon after that, Francis contacted me and began telling me about the history of music in Ethiopia and playing rare recordings for me — material that he has been releasing on the Ethiopiques series. In 2003, he and Heruy Arefe-Aiene invited us to play in the 2004 Ethiopian Music Festival, and we got deeper into the music to prepare for the trip. While we were in Addis in January 2004, we met Mulatu, Alemayehu, Getachew, Tsedenia Markos, Bahta Hewet, Michael Belayneh and others and invited them to play on our concert, which was eventually turned into Ethiopiques #20. This led to collaborations with Mulatu in the States, Mahmoud in Paris in 2006, Hana Shenkute, Setegn Atanaw and Minale Dagnew, and on and on. Most recently we finally started working with Teshome, debuting at the Chicago Jazz Festival. He'll be featured in our upcoming 25th Anniversary Concert in New York on February 11, and we'll be playing with Mahmoud in Cambridge, MA on March 24 and Amherst, MA on March 25.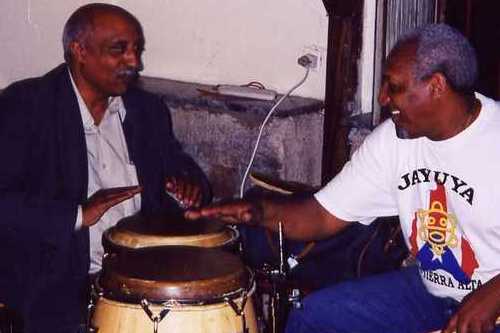 Mulatu Astatke and Vicente Lebron of Either/Orchestra, Addis Ababa, 2004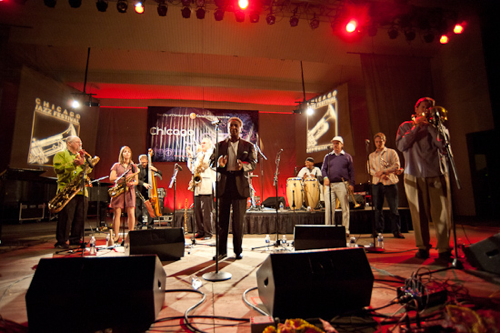 Teshome Mitiku and Either/Orchestra at the Chicago Jazz Festival, September 2010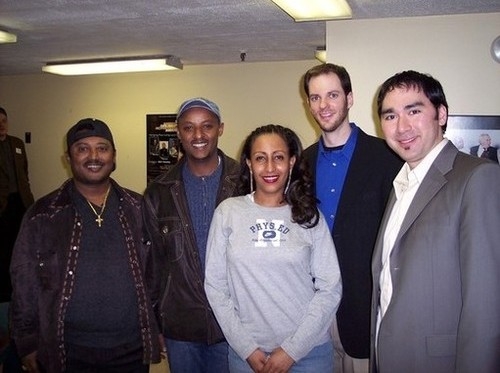 Setegn Atanaw, Minale Dagnew, Hana Shenkute, Joel Yennior, Colin Fisher, MA 2006
Tadias: You are also credited for helping to popularizing Ethio–Jazz in the U.S., especially through the Ethiopiques CD release as well as subsequent tours and performances. What would you says is your most memorable concert featuring Ethiopian artists?
RG: There have been so many amazing concerts with our Ethiopian friends that I can hardly pick one. The concert in London with Mahmoud, Alemayehu, Getachew and Mulatu was pretty great, one in Milan with Mulatu and Mahmoud was off the charts, Chicago with Teshome….
Tadias: What's your favorite Ethiopian tune?
RG: More than a favorite Ethiopian tune, I'll say that anchi hoye is my favorite mode. We jazzers love dissonant harmonies, and we can find them in anchi hoye. I even wrote string quartet – violins, viola, cello – based on it, thinking about masinko and with a section called Azmari. I also arrange Altchalkum (bati minor) for the Boston Pops Orchestra, and they played it beautifully.
Tadias: Regarding your trip to Ethiopia, what was that experience like?
RG: The visit to Ethiopia in 2004 was a wonderful, life-changing experience for me and the band. We were concerned that people wouldn't approve of how we were playing Ethiopian songs, but instead they were very interested and enthusiastic. Also, hearing Ethiopian music at the source – and seeing the dancing – really helped us to understand the rhythms and melody. And finally, it is an important experience for Americans, with our wasteful, materialistic culture, to have a chance to see an African city, where so many people have so few things and get by on little. It reminds us that the most important things in our lives are our relationships with friends, family, everybody – and that music is a beautiful way to develop and expand these relationships, across borders, languages, generations. In the U.S. it's easy for people to hide in their own space, to play with their toys, to NOT relate to other people. Of course it's great to have the comfort, safety, conveniences that we have here – but it's not nearly enough.
Tadias: In a recent article Boston Globe noted that your "wide-open sensibility" is rooted in your exposure to the New York Music scene in 1970s. Can you describe your time in New York and how it influenced you?
RG: NY in the 70′s was an exciting place to hear jazz. The spirit of Coltrane was still very much alive, Miles and his former sidemen and others were bringing electric instruments and grooves into jazz, the Midwestern avant-garde was arriving in town. There were concerts at Carnegie Hall, traditional clubs, and artists were taking advantage of the decline in the city's economy to find cheap space and open performance lofts. Every generation of jazz, from Count Basie and Benny Carter to Lester Bowie and Woody Shaw, was alive and playing. I was an avid concert and club goer from about 1975 on, and I feel fortunate to have heard just about every living legend and the rising generations.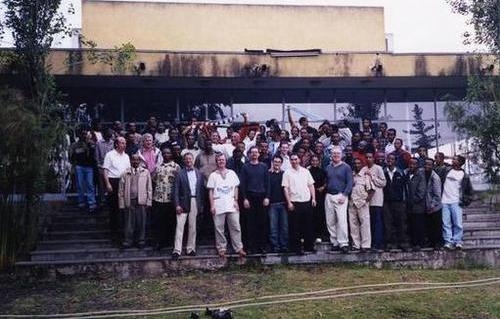 The Either/Orchestra at the Yared School of Music in Addis Ababa, Ethiopia. 2004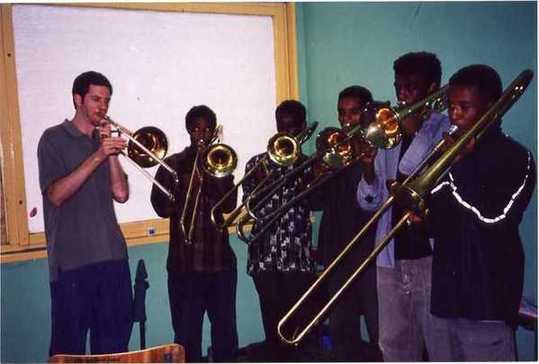 E/O trombonist Joel Yennior with the Yared School Trombonists, Addis Ababa, 2004
Tadias: Please tell us about your upcoming 25th Anniversary concert in New York.
What should your fans expect?
RG: The 25th Anniversary Concert will be an amazing collection of players who have all contributed to the E/O over the years. We'll have the ten current members of the band plus 16 former members, plus Teshome. Four drummers, seven saxophones, five trombones, and so many more. The alums include jazz stars like John Medeski, Matt Wilson and Josh Roseman, and great hard working sidemen. We'll touch on all the eras and styles of our music, and sometimes have 25 musicians on stage. It will be spectacular, Teshome is representing our Ethiopian connection, and we'll play Yezamed Yebada and a new Ambassel that we wrote together last summer. We may even play an instrumental version of Muluquen Mellesse's Keset Eswa Bicha.
Tadias: Is there anything else, you would like to share with our readers?
RG: Le Poisson Rouge is not a really big place, so I recommend buying tickets in advance and showing up on time. The show is 7 to 10 pm, very early, then we're done. We can all go out for injera!
Tadias: Thank you Russ and see you on February 11th.
–
You can learn more about the band at: http://either-orchestra.org
Photo credit: All images are courtesy of Russ Gershon.
Video: Mulatu Astatke and the Either/Orchestra play Munaye

Video: Mahmoud Ahmed and the Either/Orchestra: Bemen Sebab Letlash

Video: Either/Orchestra w/ Tsedenia Markos live in Ethiopia

Video: Alèmayèhu Eshèté with the Either Orchestra, Aug 2008