Tadias Magazine
By Tseday Alehegn


Published: Thursday, January 27, 2011
New York (Tadias) – After graduating from Harvard University, Alfa Demmellash launched Rising Tide Capital, a non-profit based in Jersey City that develops and implements entrepreneurship programs focusing on women, minorities, immigrants and other socio-economically underserved communities. Since its inception in 2004, Rising Tide Capital has successfully helped approximately 400 entrepreneurs in New Jersey to build small businesses. Nearly 70% of Rising Tide Capital clients are women and over 90% are minorities. In 2009 Alfa Demmellash was featured as a CNN hero. President Obama also cited Rising Tide Capital's influential work and stated: "If we empower organizations like these, think about the number of young people whose lives we can change, the number of families whose livelihoods we can boost, the number of struggling communities, we can bring back to life."
"Did you know? The phrase "a rising tide lifts all boats" is often used to describe a top down approach to economic revitalization" states the non-profit's web site. "But we believe it is important to help entrepreneurs see the tide and build strong boats that could rise with it – hence our name Rising Tide Capital."
Below is our interview with Founder and Chief Executive Officer Alfa Demmellash as she discusses her work to build and support small business owners through entrepreneurship training.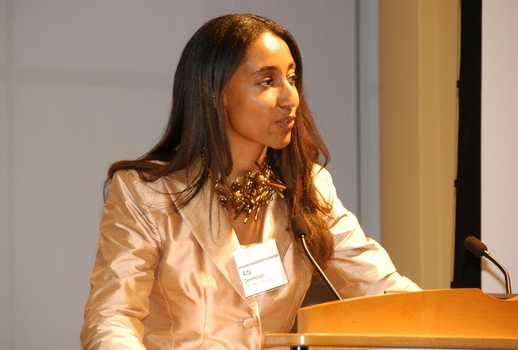 CBA Winter 2009 Graduation (Courtesy Photo)
Tadias: Please tell us about where you grew up, where you went to school.
What was your catalyst to get into non-profit ventures? Your role models?
AD: I grew up in Addis Ababa, Ethiopia. I attended Cathedral Nativity School for girls in Addis. In the US, I attended high school at Boston Latin School and completed my studies at Harvard University. The catalyst for starting Rising Tide Capital, a non-profit venture, was the influence of my entrepreneurial mother and my experiences and family. I knew I wanted to be involved in alleviating the suffering of others by recognizing the best in them and helping them overcome challenges that trap their creativity and stifle their ability to realize their full potential. I was also greatly influenced by my studies and experiences in Rwanda as I learned about the 1994 genocide and its aftermath. My role models are too many to name, especially amongst my family and clients, but Dr. Muhammad Yunus, the Rev. Martin Luther King, Jr., Nelson Mandela, Oprah, and Barack and Michelle Obama are a few of the most well-known ones.
Tadias: You've described the vision of Rising Tide Capital, your non-profit organization, as an effort "to harness the entrepreneurial community that already exists in underserved communities, to strengthen lives, to transform communities, and to create vibrant, thriving communities from within." Can you tell us more about your work with business owners in the State of New Jersey?
AD: We have worked with about 400 entrepreneurs and small business owners in New Jersey. Nearly 70% are women and over 90% are minorities. We are building a model for assisting individuals who are looking to start a business but don't know where to begin or to take those who have already started a small business to the next level. For many of the entrepreneurs we work with, they are looking to start or grow their business as a way to generate more income to supplement their low-wages from another job or out of necessity because they are unable to secure a job. New Jersey, one of the most expensive states to live in, has a big problem when it comes to the gap between those who are wealthy and those who are barely trying to survive. Many, especially in the distressed urban areas, are minorities and immigrants that make up a large segment of the "working poor." Rising Tide Capital works with those that are already entrepreneurial to help them find ways of breaking the cycle of economic marginalization.
Tadias: In your speech at the United Nations Global Summit for Women in 2008 you described Rising Tide clients as follows: "The average entrepreneur at Rising Tide Capital is a 39-year-old woman, a single mom of three children, earning less than 27,000 dollars a year." Why did you choose to primarily focus on women entrepreneurs?
AD: Actually, it is the other way around. More women chose to work with us and take advantage of our programs. This is the case across the globe where women who are often the primary providers for poorer households are seeking ways to improve their economic standing so they can feed, shelter and educate their children. However, I believe it is important to educate and empower both women and men. At the end of the day, if the men in a community are disenfranchised and undereducated, they are likely to cause a lot of problems that produce tremendous distress and barriers to the success of women and children. Men have to be a huge part of the solution. We are really happy to see that in those households where the men support and encourage the entrepreneurial spirit of their wives, partners, and siblings the likelihood of business success is very high. I have witnessed this in my own mother's case who was fortunate enough to have found a partner, her husband and my adopted father, who was supportive of her goals and her business. He was always there to encourage her and to affirm her efforts as contributing to a shared vision of success. I hope more men take that to heart and invite the grace and joy that can come into their lives as a result or at the very least, commit to do no harm.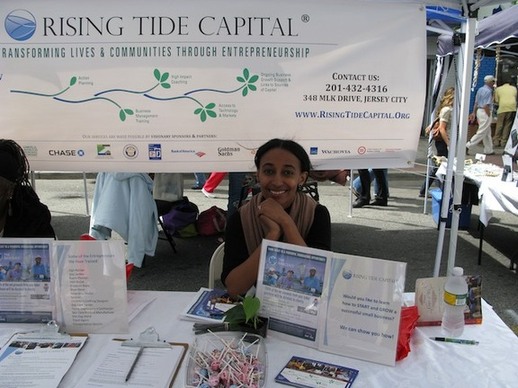 Spring 07 graduation (Courtesy Photo)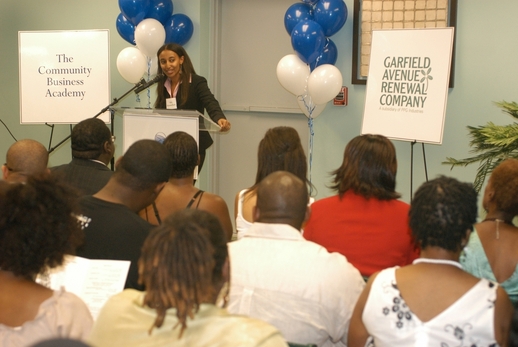 Spring 07 graduation (Courtesy Photo)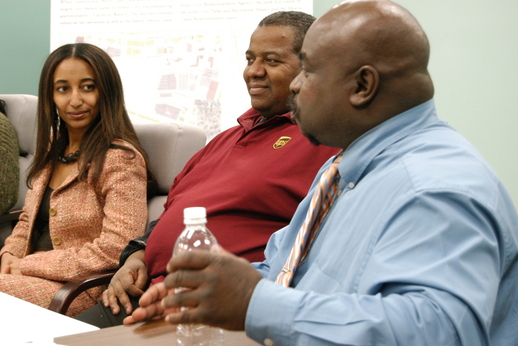 Portraits and PPG lunch 2-26-08 (Courtesy Photo)
Tadias: You also said most of your clients remind you of your mother. Can you say more?
AD: Many of the clients who come to us remind me of my mother because they are pursuing their business dreams primarily as a vehicle to achieve a bigger dream –that of giving their children more opportunities than they had been afforded. They are often single mothers, almost always struggling with extreme economic hardship and face barriers that seem impossible to overcome. In my mother's case, she arrived in America without any money, separated from her baby and not sure how she will support herself let alone reunite with her child. But, like many of our clients, she made a decision that regardless of how long it took her – she would work all the hours she could, educate herself and start a business to generate more money that she could save for her larger goal. When she got off her job as a waitress – where she stood all day starting at 4am, she would go home to cook, clean and spend the evening sewing gowns, fitting customers and planning fashion shows until well past midnight. She did this for over 10 years before she saved enough to bring me to America and provide me with a stable home and a solid education. When I got to the airport finally, she showered me with her tears and showed me the baby picture of me she carried in her wallet every day to remind her of her big dream starting from her days as a refugee.
Tadias: What are some of the challenges you faced when starting and running Rising Tide Capital? What are some of most memorable and rewarding experiences?
AD: The first big challenge to starting anything – a business or a non-profit – is that you are the "center of energy" for the whole project. You have to show why something is valuable and start effecting change and adding value even before you ask people to join you or to give you money. For the first two years of the project, my co-founder (Alex Forrester) and I did all the work never being sure of what the next moment would bring. We were forced to be creative and entrepreneurial. We would run our seminars out of community centers and meet with people at their businesses or we would conduct house visits where we would sit with mom-entrepreneurs working on their plans over the kitchen table as the kids were running around. They loved it because we were not a social agency or a big government program – so they didn't feel like they were getting a handout. We were just two young people who really believed in them and their dreams and were willing to apply our education and work extremely hard on their behalf to get them on a stronger path for success. Most importantly, we were always careful to uphold their dignity and never make them feel like they didn't know enough or a dream was too big for them. But of course, our passion alone was not enough to pay all the bills. I remember one time when we had no money left and knew we would have to go back to sleeping on our parents sofa again. So we decided to take all the money we had and bought tickets to Ethiopia. I had promised Alex that regardless of what happens, I would show him the beauty of my country and the resilience of its people. So, we got to Addis, quickly dropped off our luggage at the very affordable and centrally located Wutuma hotel in Addis and hit the road to see Ethiopia. It was much cheaper than trying to survive in America! The love, the kindness, the generosity and faith of the people of Ethiopia was on display everywhere from the rock-hewn churches of Lalibela and Gondor to the lush breadbasket of my grandfather's farm in Becho. When we left, we were inspired and reminded to be more faithful, to work harder and to have even more grit and determination. Shortly after our return, we learned that Goldman Sachs has seen our work in our community and would like to support the project. From that moment on, we never looked back and just worked harder and stayed true to our mission. Five years later, a fellow Ethiopian living nearby (Berhan Tsehai – who now runs www.TsehaiNY.com) nominated us to be CNN Heroes and we were selected out of many thousands from all over the world to be featured. That was a huge honor and definitely one of the most memorable moments of running Rising Tide Capital. Thousands of people sent us messages of support from all over the world in different languages and many more sent requests for our programs and services than we could have ever imagined. While we were sad not to be able to accommodate all the requests for services, we were affirmed that we were on the right track and that the world is full of entrepreneurial people busily changing their local economies and communities the world over.
Tadias: In June 2009, you were featured on CNN Heroes, and also invited to the White House. President Obama commended your work and noted: "70% of their clients are single moms. All of them rely on their businesses to support their families. So far Rising Tide has helped 250 business owners in the State of New Jersey. So imagine if they could help 500 or a 1000." How do you seek to expand your organization's reach in the next five years?
AD: We are currently seeking support from individuals, corporations and foundations to grow our programs and impact more individuals and communities. People from all over who believe in our mission send us as little as $5 to help support the project and we are humbled and grateful. In 2011, our programs will be offered in more distressed communities surrounding our city. We are also working with other organizations around the nation to explore opportunities to benefit more people living in financial distress who may not live near us but need our services. Our goal within the next 3-5 years is to double the number of people we work with annually while we offer even deeper assistance to those who have started their businesses and need further support to grow and create jobs for others beyond themselves. This is a grassroots movement that will someday be a very loud voice for economic hope and possibility coming out of places we least expect and from people who are, for the moment, invisible.
Tadias: Where do you see yourself ten years from now?
AD: Ten years from now, I hope to continue my advocacy and work for entrepreneurship education and empowerment amongst the least privileged in countries struggling to rebuild a more equitable, peaceful and just society. There are many lessons from the process of starting and building Rising Tide Capital that can be applied anywhere in the world where there are individuals seeking to turn ideas into reality. I am particularly excited to look towards Africa and my homeland of Ethiopia to see in what ways we can invest in the entrepreneurially driven in both the social and business sector. And of course, I also hope to become a mom (my grandpa is asking when he will see his grandchildren) and hopefully do my part in inspiring the next generation of change makers who will build on the progress and sacrifices of the generation before them.
Tadias: Is there anything else that you'd like to share with our readers?
AD: I would like thank your readers and Tadias magazine for taking the time to learn about my journey and Rising Tide Capital. I would also like to challenge your readers to think about philanthropy, to seek out organizations that do work on the ground at a grassroots level and support them. They should abolish cynicism from their hearts and minds — it only eats away at the precious time they have left to do something positive and make a difference. Finally, they should take action in pursuit of their dreams even when don't know how it will all work, never give up and keep working hard towards what they know to be right. As Dr. Martin Luther King said, "faith is taking the first step even when you don't see the whole staircase."
Tadias: Thank you for sharing your thoughts with us, and best wishes in your endeavors.
–
You can learn more about Rising Tide Capital at risingtidecapital.org.
Photo credit: All images are courtesy of Alfa Demmellash.
Watch: Obama Recognizes Alfa Demmellash


Alfa Demmellash reacts to being recognized by
President Obama for her nonprofit work


Video: Alfa Demmellash on One-On-One with Steve Adubato