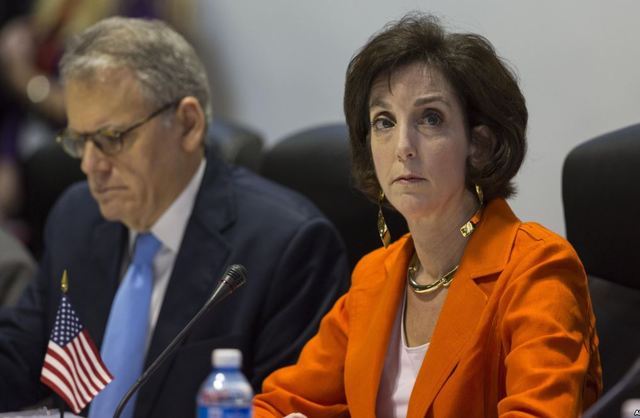 January 23, 2015
A U.S. official has wrapped up a visit to Havana, saying her talks there mark an "important step forward" in restoring diplomatic relations with Cuba, but noting they are "just a first step" and that the road ahead is long and complex.
The U.S. assistant secretary of state for Western Hemisphere Affairs, Roberta Jacobson, made the comments Friday after two days of talks with Cuban officials. She said in addition to discussing their shared interests, the two delegations addressed continuing areas of "deep disagreement," including human rights.
Jacobson, however, said such differences do not mean the two countries cannot have a relationship.
"We will continue to both speak out about human rights publicly and directly now with the Cuban government," said Jacobson. "I think that it is obviously part of what we're talking about when we say we have profound disagreements with the Cuban government, when we talk about democracy and human rights and support for civil society and independent actors."
This week's meetings come a month after U.S. President Barack Obama and Cuban President Raul Castro announced the two countries were prepared to normalize ties after more than 50 years.
Jacobson also held talks Friday with leading Cuban dissidents. The head of the Cuban Commission for Human Rights and National Reconciliation, Elizardo Sanchez, said the meeting was "cordial" and that the dissidents were satisfied despite the fact that not all civil society members were present.
The leader of the Patriotic Union for Cuba, Jose Daniel Ferrer, said the question of whether everyone in the opposition agrees with the new dialogue between the U.S. and Cuba should be a secondary issue.
"What's important is for us to maintain unity in (our struggle for) freedom, democracy and respect for human rights, which are the fundamental issues in this case," said Ferrer.
Jacobson said her discussions with Cuban government officials were also "cordial and respectful." She said the U.S. is "extremely committed" to moving ahead with the dialogue.
Jacobson said the first day of discussions centered on the two nations' regular migration talks. The second day focused on the steps for re-establishing relations and went beyond the reopening of embassies to cover a range of shared interests, including global health, counternarcotics, environmental cooperation and human trafficking.
Jacobson also stressed the importance of ensuring that the Cuban people have the information they need to make their own decisions. She said the new U.S. regulations put in place this month to allow greater telecommunications exports to Cuba was one of the subjects raised.
A Cuban diplomat told state news agency Granma the process of "normalizing" relations between Washington and Havana will take longer than merely re-establishing a diplomatic dialogue.
The unnamed official said, "We must not pretend that everything can be resolved in a single meeting."
Last month's diplomacy breakthrough occurred after secret negotiations that involved the Catholic Church. The talks led to Havana's release of U.S. government contractor Alan Gross after five years behind bars. Cuba has also released 53 political prisoners, followed by the Obama administration easing some travel and trade restrictions.
Watch: US diplomat: Normalization will take time (MSNBC Video)

—
Related:
US & Cuba Hold Historic Talks in Havana
Mr. Obama's Historic Move on Cuba (NYT Editorial)
U.S. to Restore Full Relations With Cuba (NYT)
Join the conversation on Twitter and Facebook.