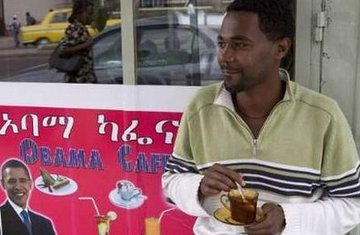 Above: A man sits outside a cafe named after the 44th
President of the United States Barack Obama in the streets of
Addis Ababa, Ethiopia. (Reuters Irada Humbatova)
National (UAE)
January 21. 2009
BAHIR DAR, ETHIOPIA // Alelegn Abebaw was expecting 500 people to pack into his Obama Restaurant, Bar and Cafe yesterday.
The 30-year-old businessman said he believes his was the first Obama cafe in the world to open, having launched in May when the new president was still battling Hillary Clinton for the Democratic Party nomination.
Mr Abebaw insists that even if Mr Obama had failed to secure the presidency his cafe's name would have stayed, such is the pride the former Illinois senator generates in Africans.
The waiters and waitresses wear Obama T-shirts and there are pictures of Mr Obama, whose father came from neighbouring Kenya, on the walls. Read more.