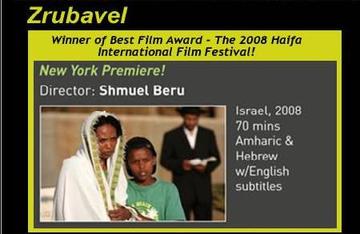 ZRUBAVEL
New York Premiere!
Winner of Best Film Award – 2008 Haifa International Film Festival
The first Israeli film by a team of Ethiopian Israelis. Itzhak, soon to be a bar mitzvah, dreams of becoming the Spike Lee of Israel and films a documentary about the neighborhood's residents. He comes from an Ethiopian immigrant family led by his grandfather Gita. Gita, a janitor, insists on sending his son to a pretentious school despite the principal's refusal to accept the boy. His dream is that his son will become an Israeli Air Force pilot, even though another son was killed while serving in the Israeli Defense Forces. The daughter is romantically involved with a distant relative in violation of Ethiopian tradition, and another son becomes religious. A chain of events ignites a clash of generations – the Ethiopian traditions cherished by Gita and his wife, and the younger generation's desire to assimilate to Israeli life.
Followed by Q & A with director Shmuel Beru,
performance with Ethiopian artist, Meskie Shibru-Sivan,
and Opening Night Reception.
Presented in cooperation with Be'chol Lashon and Bina Cultural Foundation, Inc.
Please RSVP to NewYork@BecholLashon.org or via phone at 212-217-0178