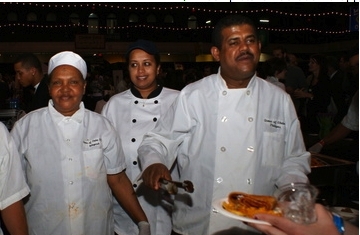 Above: FOX's Food 101 features New York's Queen of Sheba
Ethiopian restaurant located in midtown, Manhattan.
Tadias Magazine
By Tadias Staff
Published: Saturday, January 30, 2010
New York (Tadias) – FoxNews.com's Diane Macedo explores how to prepare authentic Ethiopian cuisine at New York's Queen of Sheba restaurant.
The eatery was also one of thirty-three favorite restaurants of Voice food critic Robert Sietsema, author of Secret New York. Sietsema has reviewed more than 2,000 restaurants in the last 14 years.
Among those dishing out delicious and eclectic cuisine at last year's second Choice Eats tasting event organized by The Village Voice, was the staff of Queen of Sheba, serving injera rolls with fillings of either spicy lentil or beef sauces. Eager tasters waited patiently in rows to pick up the wraps. In it's description of the Queen of Sheba restaurant, the event publication wrote: "New York finally has its own Queen of Sheba, providing intriguing and sometimes fiery spice combinations."
Diane Macedo explores the unique flavors of Ethiopian cuisine


Related Video from Tadias: QS at Choice Eats 2009