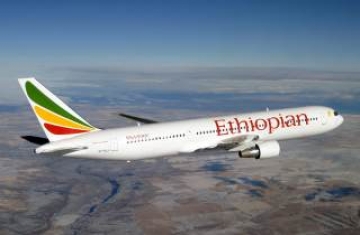 World Aeronautical Press Agency
Occurrences
05:50 pm – Tuesday
Rome, Italy – The occurrence happened this morning at Rome-Fiumicino's airport (WAPA) – The Provincial leadership of Firemen in Rome unveiled that nine rescue means are intervened this morning at Fiumicino's airport due to an emergency landing made by pilot of a B-757 airplane of Ethiopian Airlines with 147 passengers on board and nine crew members.
The airplane's pilot, remarked shortly after taking off from Rome's airport of the damage to an engine, has come back landing again on it: the manoeuvre made perfectly, from which all people on board are safe. (Avionews)
Ethiopian Airlines Offers Obama Special, Buy One Get One Free
Source: San Jose Mercury News
Free flight to Ethiopia. Companions fly free on Ethiopian Airlines, under the airline's celebration of Barack Obama's inauguration. Buy one ticket at regular fare from Washington, D.C. (the airline's only U.S. stop) to any of 32 African destinations and get a companion fare free. Must complete your travel by March 30; trips of up to 21 days are allowed. (800) 445-2733, www.ethiopianairlines.com.
Related: Ethiopian Airlines Explains Recent Emergency Landing in Malta
January 13, 2009
Addis Ababa, Ethiopia – Ethiopian Airlines flight ET -710 departed from Addis Ababa on January 11, 2009 at 0049 local time.
The B757-200 was scheduled to fly to Rome Fiumicino International Airport.
When low oil pressure light of the right engine was displayed in the cockpit panel, the flying crew immediately decided to take an emergency measure and safely landed the aircraft at a near by Malta International Airport, which is a planned enroute alternate airport. All the passengers were safely disembarked per the normal procedure.
Ethiopian Airlines' technical experts were soon dispatched from Rome, the nearest location to Malta. They performed the necessary technical maintenance on the engine and the aircraft flew back to Addis Ababa and continued its scheduled services.
Related: Ethiopian Airlines Jet makes emergency landing in Malta
Times of Malta
Sunday, 11th January 2009
An Ethiopian Boeing 757 airliner made an emergency landing at Malta International Airport this morning after one of its two engines failed, sources said.
The Boeing 757 was on a flight from Addis Ababa to Rome Fiumicino when it declared an emergency and diverted to Malta.
The Health Department was immediately informed and an emergency plan was put in place. Two ambulances were sent on site and all the doctors and nurses at the Emergency Department at Mater Dei Hospital as well as those at the four main health centres and at St Vincent De Paul, were prepared to handle any possible injuries.
The plane landed safely at 4.30 a.m.
Related: Ethiopian Airlines jet ditching in 1996 yielded survival lessons for NYC crash
CNN
Lessons learned from previous successful airliner ditchings helped pilot C.B. "Sully" Sullenberger save 155 lives when he put his US Airways A320 jetliner down in the Hudson River, a fellow pilot told CNN.
Twenty-three people died when an Overseas National Airways DC-9 ditched off the Caribbean island of St. Croix in 1970, and 123 were killed in the crash of an Ethiopian Airlines Boeing 767 off the Comoro Islands near Africa in 1996.
But Emilio Corsetti, an Airbus 320 pilot and aviation author, said those ditchings were actually successful "because people were able to get out" — 40 in the 1970 crash and 52 in the 1996 incident. Read more at CNN.