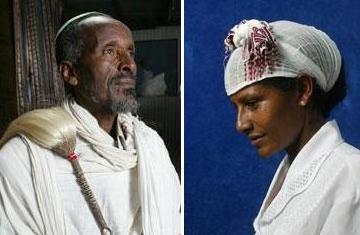 Tadias Magazine
By Tseday Alehegn


Published: Thursday, February 3, 2011
New York (Tadias) – Chester Higgins Jr., Staff Photographer for the New York Times since 1975, will be exhibiting a series of 13 Ethiopian portraits at NYU's Kimmel Center. The selection of photographs for the outdoor exhibit were taken by Higgins between 2007 and 2010 in Ethiopia, and will be on 24-hour display at Windows at Kimmel Center from March 1st through May 1st, 2011.
The exhibit entitled "Stars of Ethiopia: Photographs by Chester Higgins Jr." features images measuring 70″ x 80″ on the public sidewalk for pedestrians and vehicular traffic to see. At night the images will be backlit, and Higgins says "so for 24 hours a day during these two months the Washington Square public will be treated to a little of Ethiopia in Greenwich Village."
The official press release notes that Ethiopia "is a land of contrast and heterogeneity. The northeastern African nation is composed of more than 80 ethnic groups speaking over 80 languages, with cultural practices and traditions dating more than 3,000 years. With each portrait, Higgins seeks to create a dialogue with the viewer, revealing his subjects' diverse homeland through their eyes."
Higgins' work has been printed in several publications including The New York Times, Life, Newsweek, Fortune, Essence, The Village Voice, and The New Yorker magazine. His photography is part of the permanent collection of the Museum of Modern Art. For Higgins, taking pictures has grown "into a life-long mission to show the decency, dignity, and virtuous character of people of African descent." He has also published books on themes such as the nobility of aging, the experience of Black American women in the seventies, trans-Atlantic communities in the African Diaspora, and an autobiographical journey entitled "Echo of the Spirit," which recounts his life as a photographer and an artist. Higgins cites Romare Bearden, Cornell Capa, Gordon Parks, P.H. Polk, and Arthur Rothstein as individuals whom he considers to be his mentors.
Higgins' photographs invoke the power of the collective voice, and he recounts his three decades of traveling across South America, the Caribbean, and the African continent to document the culture, history and daily life of Africans in the Diaspora. "I made more trips in search of the missing pieces to fill in the harmony and add rhythm to make my symphony," he says. "It came together as my fourth book: Feeling the Spirit: Searching the World for the People of Africa."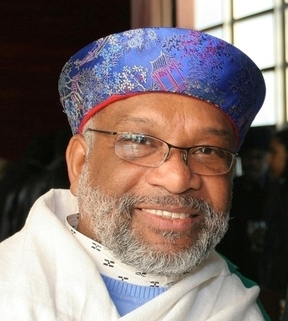 Photographer Chester Higgins Jr. Courtesy Photo.
Solo exhibitions of Higgins' award-winning work have been displayed at the The Smithsonian Institution, the International Center of Photography, Musée Dapper Paris, The Museum of African Art, The Museum of Photographic Arts, The New-York Historical Society, and The Schomburg Center in Harlem. Emphasizing the presence of a visual language Higgins states that "a camera can't compose a picture. Only your eye can. Seeing and recording with a camera is a special process that has its own language — a visual language…It takes practice to learn a language. A visual language takes just as much time and commitment. When you become fluent in it, you will be ready to handle the split second decisions necessary to make exceptional photographs."
An opening reception for the Stars of Ethiopia exhibit will be held on Friday, March 11th at the 2nd floor lounge of Kimmel Center from 6:30 to 8:30pm.
The exhibition is curated by Lydie Diakhaté, Adjunct Curator at Grey Art Gallery, and coordinated in collaboration with the Institute of African American Affairs at NYU.
If You Go:
March 1st through May 1st
NYU Kimmel Center
60 Washington Square S
New York, 10012
Cover photos: © Chesterhiggins.com.