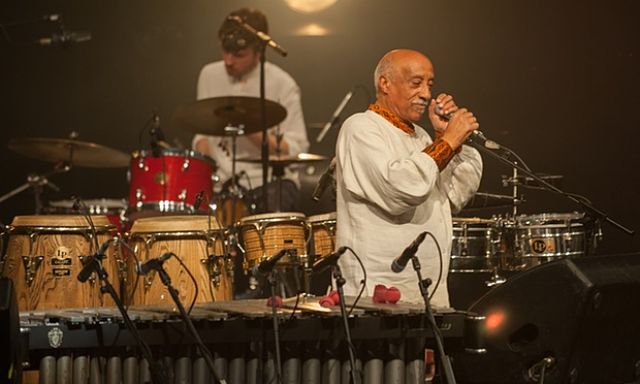 By John Fordham
Nobody fuses the sounds and rhythms of African, American and European music the way Mulatu Astatke does. The Ethiopian multi-instrumentalist balances a songwriter's seductiveness with a borderless vision and a relaxed faith in left-field improvisers. Much of this Roundhouse gig sounded off the cuff, but the trim, smiling, white-clad 72-year-old at the centre was always tweaking the overview with the lightest of touches on the helm.
Early in the show, Astatke's Dewel was soon showcasing his talent for rousing free-collective improv exchanges from insistently riffy, bitter-sweet anthems, and rhythmic underpinnings that sometimes float and sometimes throb. Saxophonist James Arben's blurted free-jazz tenor break, Byron Wallen's warm flugelhorn sound, the abrupt punctuation of Alex Hawkins's piano chording, and the combined percussion of the loose-limbed Tom Skinner, the talking-drums of Richard Olatunde Baker and Astatke himself on congas took the piece through constant changes.
Yekermo Sew (a simmering Astatke twister from Jim Jarmusch's Broken Flowers that sounds like a Latin-jazz theme with a raft of extra bars in it) spurred a shapely vibraphone solo from its creator. Urgent, barking riffs, John Edwards's volcanic basslines and the drummers' churning polyrhythms brought a kind of dark, Bitches Brew-like ecstasy to the set. Two female dancers whirled on, shimmied and shuddered amid the slamming riffs, and vanished to roars. The tenderness of Astatke's Motherland was cherished by the classical poise of Danny Keane's cello, the spirited London rapper Afrikan Boy clattered out fast-moving monologues against Edwards's wild bass rejoinders, and the leader's ruminative closing piano solo became the kind of glowing melody of rich brass sounds, lateral sax prods and deft resolutions to lazily curving themes that typified a truly memorable show.
—
Join the conversation on Twitter and Facebook.