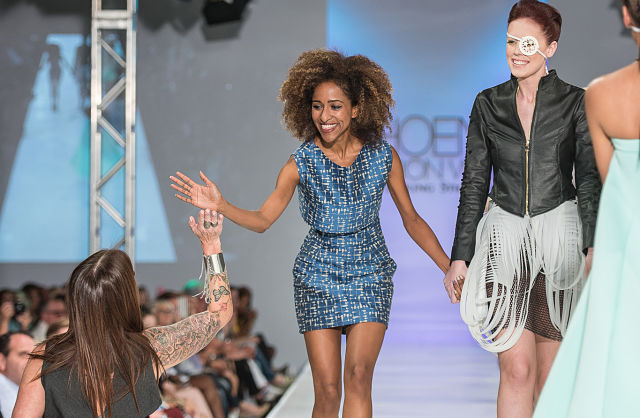 Tadias Magazine
By Tseday Alehegn
Published: Wednesday, February 3rd, 2016
New York (TADIAS) — Take one look at Azmara Asefa's laser-cut leather jackets lined with mesh that acts as ventilation for hot summer days, or her 3D-printed wooden jewelry lines held together with gold posts — reminiscent of an architectural project — and you know that her fashion line is a bold runway collection.
Named after the 29-year-old owner and designer who was born in Ohio to immigrant parents from Ethiopia, the Azmara Asefa collection was featured in last October's Phoenix Fashion Week — following a four month bootcamp session offering training in fashion business and marketing — and selected as one of 13 best emerging designers in the United States. It also stood out as one of the most technology driven fashion lines.
Azmara had prepared several pieces for smaller scale collections before recently rolling out her full and impressive Spring/Summer 2016 collection designed by her womenswear company based in Los Angeles with all materials made and assembled in American fair trade factories.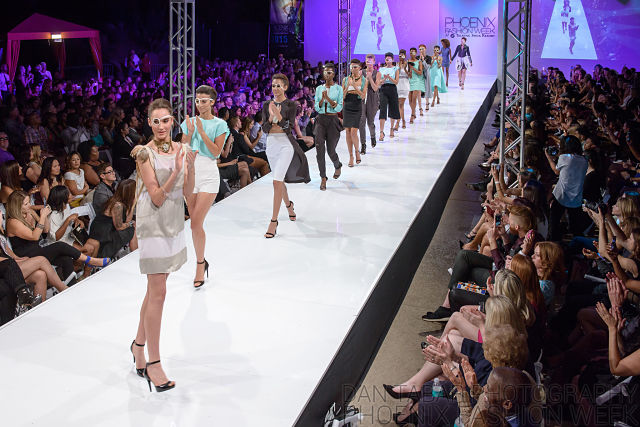 Azmara Asefa's Runway Collection at the Phoenix Fashion Week final walk. (Courtesy photo)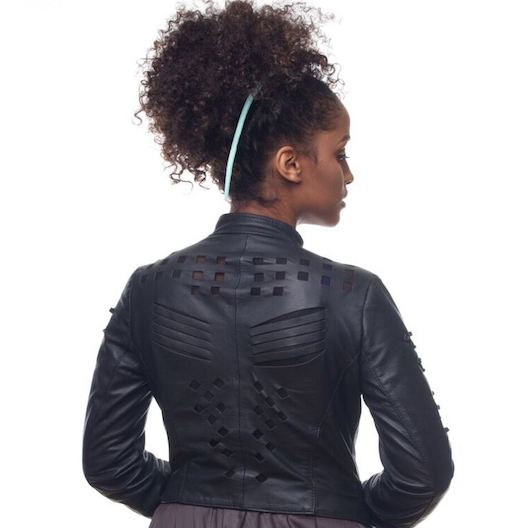 Laser-cut leather moto jacket with diamond motif details that are inspired by Ethiopian motifs on traditional dresses. (Photo: Courtesy of Azmara Asefa)
"Fashion was always loved" Azmara told Tadias. "In the back of my mind it was always around, and part of it comes from watching older movies from the 1930s with my mom, and traveling and seeing how people dress." But Azmara's first love, since the age of 7, was architecture.
"My interest in architecture first peaked when I went to Ethiopia as a child and my family and I visited the Blue Nile waterfalls," Azmara recalled. "It would be so cool to have a bridge here," she remembered thinking. "And soon after that I started drawing and finding out more about what I needed to study in order to become an architect. I learned that math was required, for instance, and I prepared myself for the field."
Azmara attended Miami University in Ohio where she majored in architecture and met one of her first mentors, Professor Gail Della-Piana. "She was the only Black professor in the architecture program, and her studios focused on culturally-centered projects including the design of a Native American center" Azmara said.
For her thesis Azmara studied refugee and migrant camps in the horn of Africa. "Often individuals at the camps would use what they wear as part of their shelter," she noticed. "In the migration process individuals retained their culture, traditions and adapted to new situations by using the materials around them including their clothing" Azmara said.
She continued her studies in architecture at the graduate level at the University of Cincinnati, guided by her culture-centered focus. Adding courses in fashion to her class schedule Azmara found another mentor in Ann Firestone at the School of Design. Upon graduation Azmara worked as an architect in Ohio, Atlanta, London and Los Angeles including practicing at Gensler, the largest architecture firm in the world.
Azmara cited Zaha Hadid as one of her biggest influencers in architecture "as a woman of color who has this really great firm, is well-respected and has a really unique perspective."
"If you look at one of Zaha Hadid's buildings, you know she designed it," Azmara added. "She has made her mark as someone who uses technology to generate her design concepts, and I love that, of course."
In the world of fashion Azmara has several role models including Ethiopian-American couture wedding gown designer Amsale Aberra, technology-driven Japanese fashion designer Issey Miyake, and Kym Gold, Co-Founder of the True Religion brand who she met at Phoenix Fashion week.
"The link between architecture and fashion is strong, and the leap from architecture to fashion was simple to me," Azmara admitted.
"Entrepreneurship in the Ethiopian community in Ohio is also really big," Azmara pointed out. "I grew up surrounded by people who owned a lot of small businesses and were very enterprising."
Following her participation at Phoenix Fashion Week Azmara decided to commit to creating her first full runway collection of what she called "bold, technology-driven, apocalypse-ready womenswear and accessories that are laden with culturally inspired symbols and yet remain minimal."
Azmara is incredibly resourceful and creative in the materials she picks for her fashion line, which ranges from natural materials such as wood, silk and leather to meshes and neoprene (scuba fabric). Often she also inserts cultural references from her own heritage. Her 3D-printed jewelry line, for example, is "a play on Ethiopian wooden crosses and traditional diamond patterns."
"Clothing as armor?" states her website. "Yes. We believe that when you are donned in bold architectural lines, laser-cut geometries, and intensely detailed 3D-printed accessories, you feel strong, bold and confident enough to make it through anything!"
Describing her latest collection Azmara said her intention was to make women feel empowered, confident, and to stand out.
"I am using the term 'apocalypse-ready' as a metaphor for my collection in a future-looking sort of way, and reminding ourselves that we all have the ability to overcome challenging events in our day," Azmara added. "Internally, for the business it also give a really clear and decisive direction as a technology-focused brand. The clothes use architectural lines and silhouettes to enhance women's forms in an artful, strong and flattering way."
In addition to emphasizing a blend of architectural technology in her designs, Azmara is also keen on building a company firmly rooted in fair trade principles.
"I try to be very ethical so when I source fabric I want to be able to track it and make sure it is fair trade" Azmara told Tadias. "Right now my designs are produced in America and we can ensure that workers are getting a fair wage. I can see the factory — it's just thirty minutes from where I live, and I can just drive down there and look at everything."
Azmara also hopes to grow her ethically sourced runway collection and expand her base to Ethiopia while still making sure it remains fair trade. For now her company has partnered with the Women's Refugee Commission with 10% of sales going towards their programs. "I really want to work more closely with them," Azmara said "and do more than just provide proceeds. I want to provide something more immediate and tangible for the women they work with."
As she prepares to launch a Kickstarter campaign this month, Azmara shared that she would love to design high-tech wearable technology and go digital in the second half of this year while continuing to incorporate architecture and designing pop-up shops in a multi-disciplinary trajectory later down the line.
"I think that growing up with people who came as immigrants to this country — and made the American dream come true for themselves — I was inspired by how the human spirit is so resilient" Azmara said. Her visionary debut runway collection says it all – intriguing, cutting-edge, and exuding resilience.
—
You can learn more about Azmara Asefa's design work at www.azmaraasefa.com.
Join the conversation on Twitter and Facebook.