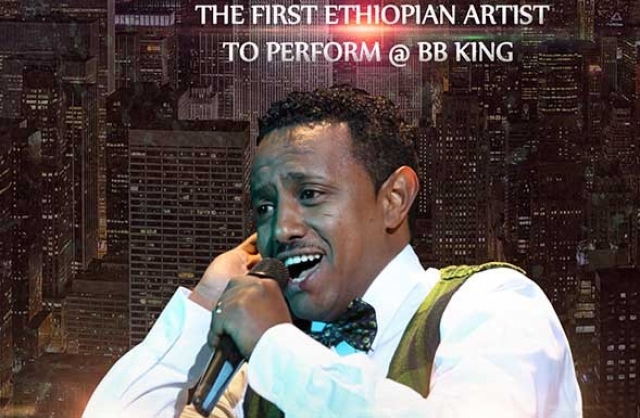 Tadias Magazine
Events News
Updated: Wednesday, February 6, 2013
New York (TADIAS) – Teddy Afro and Abogida Band will perform live at B.B. King Blues Club & Grill in Manhattan later this month in continuation of their current world tour, which included a concert in support of the Walyas at the 2013 Africa Cup of Nations in South Africa. Organizers said Teddy will be the first Ethiopian to perform at the acclaimed NYC venue that is renowned for showcasing world-class musical talent.
Brooklyn-based musician Tomás Doncker will open the evening highlighting his traveling musical production that pays tribute to Ethiopia's role during World War II and featuring collaborative work with guitar legend Selam Woldemariam.
The event's announcement noted that Teddy, who has dominated the Ethiopian music scene for nearly a decade, has garnered a global base of loyal and adoring fans as well as political foes who are opposed to his iconoclastic views expressed in his socially conscious lyrics that cover topics including politics, history, peace, love, justice, and equality.
The iconic Ethiopian artist was born in the Kuas Meda area of Addis Ababa, on July 14, 1976. "His late father, Kassahun Germamo, was a renowned Ethiopian songwriter, while his mother, Tilaye Arage, was a professional dancer," the press release said. "Despite his parents being involved in the entertainment industry, they discouraged Teddy from becoming a musician."
The announcement added: "Since signing with an Ethiopian record label in 2001, the pop star has officially released 6 albums: Abugida (2001), Tarik Tesera (2004), Yasteseryal (2005), Yasteseryal Edition 2 (2005), Best Collection-Nahom Volume 14 (2006), Tikur Sew (2012). His latest album, Tikur Sew (black person), smashed Ethiopian record sales and is on pace to become the number one selling Ethiopian album of all time."
—
If You Go:
Teddy Afro with Abogida Band
February 22, 2013
B.B. King Blues Club
37 West 42 St (212) 997-4144
New York, NY 10036
Showtime @ 11:59PM
Doors Open @ 11:00PM
Tickets $40.00 in advance, $50.00 day of show
Reserved VIP Booth on floor available for 4 & 6 people
$50 adv/$60 Day of Show per ticket – Must buy entire booth
A booth for 4 = $200/$240
A booth for 6 = $300/$360
Click here to learn more.
Video: Teddy Afro – Lambadina

Watch: Teddy Afro New 2012 – Tikur Sew official music video

—
Related:
In Pictures: Teddy Afro & Abogida Band in South Africa
—
Join the conversation on Twitter and Facebook.