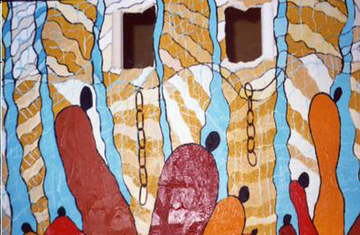 Above: "Streams Of Consciousness II," 2004. Mixed Media.
42″ x 27″, by artist Sofia Kifle.
Source: Westfield State College
Published: Monday, February 9, 2009
An exhibition entitled 'IMAGinING TOBIA', Video Installation and Presentation by Dr. Salem Mekuria, and the New England Premier of 'Ethiopia Whispers', paintings by Sofia Kifle are on display at the Westfield State College Downtown Art Gallery (Rinnova Building, 105 Elm Street, Westfield, MA). The show runs through March 7, 2009. Gallery Reception featuring Ethiopian music of Debo Trio and refreshments is scheduled for Thursday, February 12, 2009 (5:30 to 8:00 pm).
Professor Salem Mekuria will speak on February 12 and Daniel Tesfalidet will give the gallery talk on February 5 at the WSC Downtown Art Gallery.
Salem writes, I offer IMAGinING TOBIA as a mirror on which to reflect issues confronting the nation, and as a space in which to meditate on the disjunction between our 'real' and imagined knowledge of Ethiopia and its multi-faceted history. As an Ethiopian-American I examine my own gaze on my native land as I take in impressions of the variety and diversity of the landscape and its people. In this way, TOBIA (a vernacular pronunciation for Ethiopia) represents a travelogue recorded by a hybridized explorer's camera, then layered and juxtaposed in infinite ways to create a multitude of meanings and associations. The triptych is a reference to Ethiopia's traditional religious art. Salem Mekuria, originally from Ethiopia, is now a Professor of Art at Wellesley College in Massachusetts. She has worked with NOVA/Public Television and with numerous film productions focusing on issues of African women and development. Salem is the recipient of numerous awards, production grants, and fellowships. Her films have been broadcast internationally and have screened at venues around the world.
Sofia Kifle, Ethiopia Whispers


Drawing from her life growing up in Ethopia through simple colorful patterns and symbols Sofia Kifle's paintings express the movements, journeys, and crossroads of her life experiences.
"My paintings incorporate the fusion of experiences, observation, influences and contemplation spanning my entire life. Growing up in my native Ethiopia, my childhood imagination was always moved by the ragged lines, the warm colors, the expressive eyes, and the stories told by ancient religious paintings in the churches. I am a gypsy who tries to tell eyeful stories by means of color, brush strokes, movements, shapes and characters. These stories visualize and portray my story, the stories of the Africans, the stories of the Americans and the stories of the world."
Ethiopian Musicians of Debo Trio
Debo Trio is comprised of three members of the Boston-based group, Debo Band, an eight-piece Ethio-groove project. The trio performs chamber-like renditions of the funk and dance music for which Debo Band is known, while focusing on the more traditional elements of Ethiopian music, including the music of the *azmari*.
If you go:
Gallery Reception featuring Ethiopian music of Debo Trio, refreshments
Thursday, February 12, 2009 5:30 – 8:00 pm
Westfield State College Downtown Art Gallery,
Rinnova Building, 105 Elm Street, Westfield
More at Westfield State College.