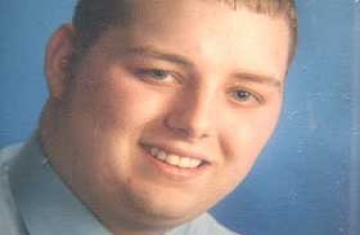 Above: Brian Adkins, 25, was found dead in his home in
Addis Ababa, Ethiopia, but details remain sketchy.
Ethiopia: Update on the Death of FSO in Addis Ababa
U.S. Department of State
Public Affairs
Office of the Spokesman
Washington, DC
Question Taken at the February 9, 2009 Daily Press Briefing
February 9, 2009
Question: Any update on the investigation into the death of the Foreign Service Officer in Ethiopia?
Answer: We can confirm that Brian Adkins, a 25-year-old FSO, died in Addis Ababa. The death is under investigation by the Bureau of Diplomatic Security and we are coordinating closely with the Government of Ethiopia. We will provide details as they become available.
Question: Has the Accountability Review Board been convened as of yet?
Answer: The investigation into the death of Mr. Adkins has not yet been completed. The facts of that investigation will determine whether there will be the need to recommend that the Secretary convenes an Accountability Review Board.
THE COLUMBUS DISPATCH
By Theodore Decker
Friday, February 6, 2009
He'd watched the Eiffel Tower's light show from the top of the Arc de Triomphe and ridden a burro in Africa.
For Brian Adkins, 25, the world's treasures were as simple and marvelous as a hyena strolling down the road.
That was among the last stories the fledgling U.S. diplomat from Franklin County shared with his family, just a few weeks before his death last weekend in Ethiopia.
Adkins gleefully told his family that the hyena was one of the ugliest creatures he'd ever seen. But it was much more than that to him, and his excitement was contagious.
"It was Africa," his brother, Mike Adkins, said yesterday. "That's pretty much what he was telling you."
The death of a young man with such a passion for life and other cultures has left relatives devastated.
"He will probably be the most positive person we'll ever know in our lives," said his mother, Christine Adkins, who lives on the South Side.
Adkins, a foreign-service officer for the State Department in the Ethiopian capital of Addis Ababa, was found dead in his home by security officials checking on him.
Ethiopian and U.S. officials have released few details about his death but said it appears to be a homicide. He likely was killed on Saturday.
His family was told of his death Monday, what would have been his 26th birthday, but they remain in the dark on most of the details. They don't think his death was related to his job, Mrs. Adkins said. But they don't know how he was killed, given the security provided to all diplomats.
"How did someone get in his house, and what happened in his house?" his mother asked.
Those answers might be weeks away. Adkins' body remains in Ethiopia and likely won't be returned to the United States until this weekend, when a government autopsy will occur. His family understands that the investigation is tangled amid international red tape, and they know from Brian that patience is a diplomatic virtue.
Adkins grew up in Whitehall. He graduated from Whitehall-Yearling High School, where his love for language, political science and world affairs took hold. He was a devout Catholic and fourth-degree Knight of Columbus.
He received undergraduate and graduate degrees from George Washington University in Washington, D.C., and had traveled extensively long before taking his two-year State Department post in Addis Ababa last summer.
Since his death, e-mails from people he knew around the world have found their way to the Adkins family.
"Every country he's visited, he gained a friend," Mike Adkins said.
Adkins worked in the consular section of the embassy, handling passports and paperwork while hoping to move up to big-picture issues such as U.S. economic diplomacy.
The weekend of his death, he was to report to the embassy in Rwanda for six weeks.
Adkins had been looking forward to the trip. Though he was excited about the work, he'd told his family about a jungle preserve for gorillas. It would cost him $1,000 to see them, he'd said.
Another country, another experience. To him, it was worth every penny.
"He was like a sponge," said his mother. "He was infectious."
———-
From News Services
Friday, February 06, 2009
A young American diplomat has been found dead at his house in the Ethiopian capital, Addis Ababa, and foul play is suspected, U.S. and Ethiopian officials said Thursday. The U.S. State Department said the body of Brian Adkins was discovered Saturday. Adkins would have turned 26 on Tuesday, according to his father, Dan Adkins of Columbus, Ohio. (AJC)