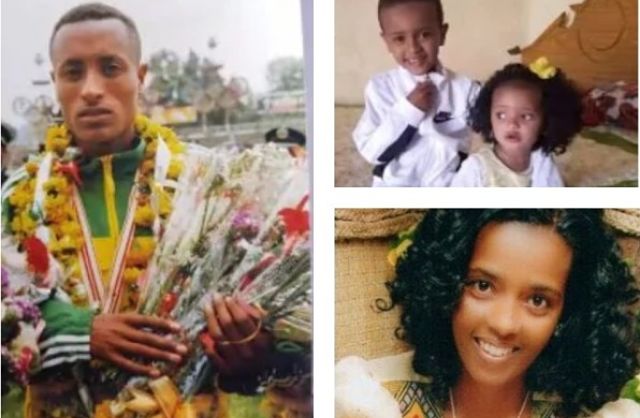 Elite runner who was tortured and fled Ethiopia reunites with his family in the U.S. — on Valentine's Day
Demssew Tsega Abebe was a famous marathon runner in Ethiopia and was expected to be on his country's Olympic team. But his career was cut short when he was tortured for peacefully protesting his government's policies. His heels and feet were so severely lashed he could not run for more than a year.
He fled to the Washington area in 2016, and he has been trying to bring his wife and two children to the United States ever since, in part to get medical care for his 5-year-old son, Dagmawi, who cannot speak. Until today, Abebe had never met his 2-year-old daughter, Soliyana, as his wife was pregnant with her when he fled.
Last week, Abebe learned that his family had won a humanitarian immigration petition to join him. Fittingly, they arrived early Valentine's Day morning at Dulles International Airport. He held his daughter for the first time.
"Exceptional feeling," he said in a text from the airport. "So thrilled, so happy."
Yesterday, before they arrived, his voice broke with emotion as he thought about the moment he would see them. "I miss my family, my children. My son, he knows he waits a long time, but I am coming back to him."
He said Valentine's Day isn't much of a holiday in Ethiopia, but he said he is proud to be reuniting with his family on a day that celebrates love, in a nation where he is free to express himself.
"I am so happy, I thank God," said Abebe, 29, who lives in Silver Spring.
—
Join the conversation on Twitter and Facebook.