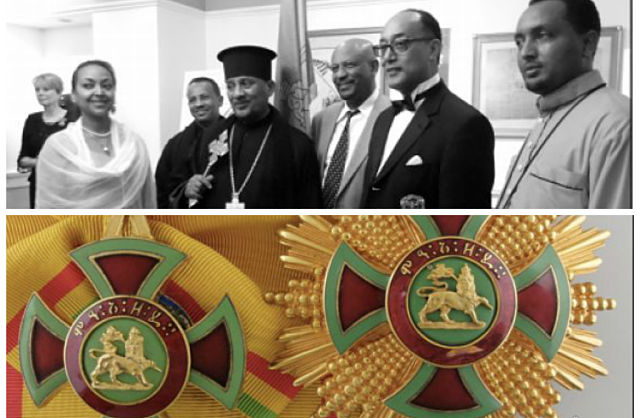 Tadias Magazine
By Tadias Staff
Published: Monday, February 20th, 2017
New York (TADIAS) — This coming weekend at the Army and Navy Club on Farragut Square in Washington, D.C., Ethiopian guests will gather for a black tie event hosted by Prince Ermias Sahle Selassie, the grandson of Emperor Haile Selassie and head of The Crown Council of Ethiopia. The event is both a celebration of Ethiopia's historic victory at Adwa as well as to give out honorary medals to selected individuals who have distinguished themselves through their dedicated contribution to Ethiopian society at large.
This year the most prestigious award the "Grand Officer of the Imperial Order of Emperor Menelik II," which was founded in 1924 during the reign of Empress Zauditu, will be bestowed on Elias Wondimu, the Editorial Director & Founder of Tsehai Publishers in Los Angeles, California. In a statement Prince Ermias shared that Elias is being honored for preserving "the national identity of Ethiopians and Africans, and contributing to a greater understanding of Ethiopia and Africa by people outside the continent."
In addition Denver, Colorado-based businessman Mel Tewahade, among others, will be given the "Grand Officer of the Order of the Star of Honor" (GOSE) during the private ceremony to be held on February 25,2017 at the Annual Victory of Adwa Commemorative Dinner, according to Gregory Copley, a Strategic Advisor to the Crown Council of Ethiopia.
The newspaper Negarit — The Journal of The International Society for the Imperial Ethiopian Orders — notes that the annual event, now in its sixth year, commemorates the victory of Emperor Menelik II over invading Italian forces at the Battle of Adwa on March 1, 1896.
—-
Related:
Adwa: Genesis of Unscrambled Africa
Interview With Prince Ermias S. Selassie
In Pictures: 50th Anniversary of Emperor Haile Selassie's Historic Visit to Jamaica (TADIAS)
Haile Selassie's visit was a momentous occasion (Jamaica Observer)
Under Pressure from Family Christie's Skips Auction of Haile Selassie's Watch
New Book on Triumph & Tragedy of Ethiopia's Last Emperor Haile Selassie (TADIAS)
Join the conversation on Twitter and Facebook.