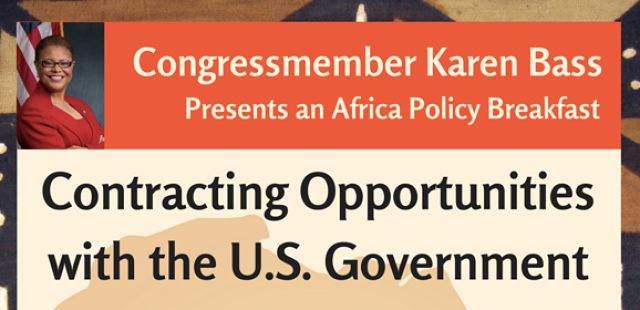 Tadias Magazine
By Tadias Staff
Published: Tuesday, February 21st, 2017
New York (TADIAS) — U.S. Congresswoman Karen Bass who is the Ranking Member of the House Africa Subcommittee will host the 2017 Africa policy breakfast kickoff event next week in Washington, D.C. focusing on how to win contracting opportunities with the U.S. Government.
"Getting the correct information and details on this process is often thought of as complex and difficult," said the email announcement from Rep. Bass who represents California's 37th Congressional District in the United States House of Representatives. "This event will feature experienced contracting experts with years of experience in the U.S. public and/or private sector to help us kick off the 2017 series of Africa Policy Breakfasts."
The panel will be moderated by the Honorable Lauri J. Fitz-Pegado, a Partner at The Livingston Group. "Appointed by President Clinton and confirmed by the Senate, Ms. Fitz-Pegado served in the Department of Commerce, under the late Secretary Ronald H. Brown and Secretaries Mickey Kantor and William Daley, as the Assistant Secretary and Director General of the U.S. and Foreign Commercial Service."
Guest speaker includes Dr. Sharon T. Freeman, President of All American Small Business Exporters Association, as well as expert panelists Eugene Cornelius, Deputy Assistant Administrator for International Trade, Small Business Administration; Mahmoud Bah, Acting Vice President of Administration and Financing and Chief Financial Officer, Millennium Challenge Corporation and Kimberly Ball, Deputy Director, Office of Small and Disadvantaged business Utilization, U.S. Agency for International Development.
—
If You Go:
2017 Africa Policy Breakfast Kickoff:
Contracting Opportunities with the U.S. Government
Monday, February 27, 2017
8:00 AM – 10:00 AM
2044 Rayburn House Office Building
Washington, D.C. 20515
Click here to RSVP
Join the conversation on Twitter and Facebook.