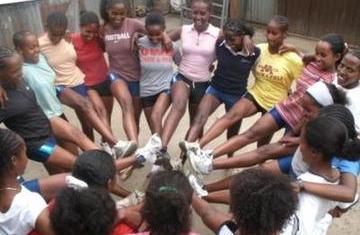 Above: The Team Tesfa girls in Ethiopia are supported by the
Girls Gotta Run Foundation in D.C. (Photo: courtesy of GGRF)

Opinion
My Dream Came True
By Kebebush Tesfaye


Published: Sunday, March 6, 2011
Washington, D.C. – A few years ago I learned about Girls Gotta Run Foundation (GGRF), an organization that focuses on raising funds for young Ethiopian girls who are training to become professional runners. GGRF, which was established in 2006, provides these future athletes with money for sports training, as well as nutrition and other essential expenses. But running is more than a pastime or sport for these girls who have discovered self-empowerment, and through additional funds now have the opportunity to stay enrolled in school and to avoid early marriage.
GGRF was founded by Dr. Pat Ortman, a retired Women Studies Professor and an artist. Inspired by her dedication, I became a Girls Gotta Run Foundation supporter. Since then I have wanted to meet the girls, and this year my dream jumped off the page and came to life! In February I got to visit the Team Tesfa Girls Gotta Run in Ethiopia.
I went to Addis Ababa to attend my sister's wedding, and as soon as I arrived I called Mr. Dana Roskey, Founder and Director of the Tesfa Foundation, to make an appointment to meet with him and the Team Tesfa girls who are supported by the Girls Gotta Run Foundation. Unfortunately, Dana was flying back to London the next day, so we couldn't see each other. But he promised to connect me with his Chief of Staff, Ms. Menna Alemu. On February 4th I received a call from Menna, who was a sweet, soft-spoken, and beautiful young woman. She took me to where the team had gathered at Ferensaye Legasion to meet with me. I was thrilled when I saw 20 + hopeful girls who were working hard to become professional athletes. And they had many stories to tell.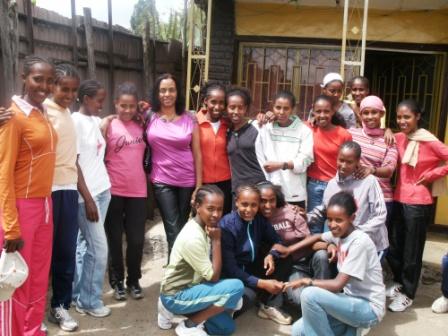 Picture with the girls. I am the fifth person from left. (Photo courtesy of GGRF)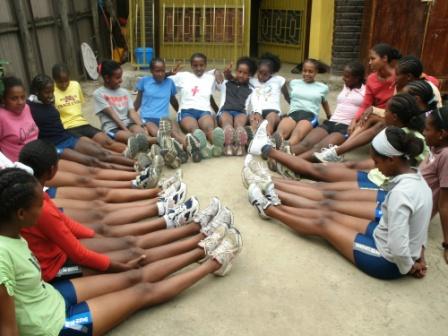 The Team Tesfa girls in Ethiopia. (Photo courtesy of Girls Gotta Run Foundation)
Some of the girls are already working full time, going to school full time, and training 3 days per week. Some have no family. They are living with friends and strive to fulfill their daily needs. The girls had traveled from all parts of Ethiopia to join Team Tesfa, but they looked and acted like one family, sharing the same dream. One may ask how their dream will come true. I say it will be due to their hard work and dedication, as well as to the efforts of the tireless Dr. Ortman, the GGRF Board, our supporters, and Mr. Roskey and his team and supporters, including Menna. GGRF brought these girls together to help them make their dream a reality — Tomorrow's professional athletes!
If you would like to support these girls, you may contribute to the Girls Gotta Run Foundation at www.girlsgottarun.org and the Tesfa Foundation at www.tesfa.org. Thank you!
–
About the Author:
Kebebush Tesfaye is an advocate for Ethiopian girls and women. She is a member of GGRF's Advisory Board. She works in E-Resource Technical Support at the University of Maryland Library.
Related:
Video: Talk with Dr. Pat Ortman and other footage from GGRF fundraiser in Maryland (Nov. 2010)