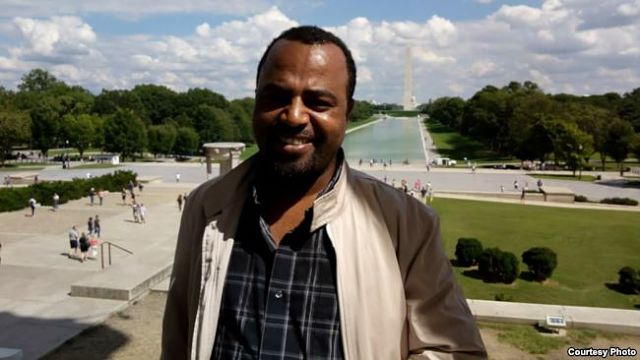 Tadias Magazine
By Tadias Staff
March 10th, 2017
New York (TADIAS) — Ethiopian authorities have arrested the publisher of the Ethiothinktank website Seyoum Teshome. According to the Association for Human Rights in Ethiopia the reason for Seyoum's arrest and his whereabouts are not known. The Ethiopian blogger was reportedly taken into custody on March 8th by security forces at his home near the Woliso campus of Ambo University, where he lectures, people with knowledge of the incident told Voice of America and Deutsche Welle.
"Seyoum has been critical in his blog of a six-month state of emergency Ethiopia declared in February," the New York-based Committee to Protect Journalists (CPJ) said in a statement. "Under the state of emergency, authorities can carry out arrests and searches without warrant and close down media stations, according to a report by the state-owned Ethiopian News Agency." CPJ'S Deputy Executive Director Robert Mahoney added: "Ethiopia cannot again use the cloak of a national emergency to round up journalists and stifle critical voices. This is the second time that authorities ignored due process to detain Seyoum Teshome. He should be released immediately and unconditionally."
In a related news, Ethiopia has deported Guardian journalist William Davison because of media accreditation problems. Davison who is a British citizen was a former Bloomberg reporter based in Ethiopia.
The Associated Press reports: "Davison said he was expelled from Ethiopia on Wednesday after being detained at a police station for a day. "Officials from Ethiopia's Immigration department deported me and I am now back in the U.K," Davison posted on Facebook, saying the Ethiopian government failed to grant him accreditation to report for The Guardian after he stopped working for Bloomberg. "What my treatment demonstrates once again is a lack of appreciation of professional journalism and a failure of various government institutions and officials to follow established procedure in anything like a transparent manner."
Per AP: "The journalist, who was chairman of the Ethiopian Foreign Correspondents Association, said he was not given a specific reason for his deportation but an official at the Ethiopian spokesman office said the journalist was deported because had no foreign media affiliation. "We have been treating him like all the other reporters when he was a Bloomberg reporter but now he has no accreditation with any other media outlet or whatsoever so he can't produce reports from within Ethiopia now," said Mohammed Seid, an official at the Ethiopian spokesman's office. "I'm not aware that he has submitted a new accreditation with The Guardian."
—
Join the conversation on Twitter and Facebook