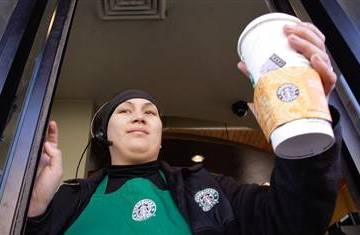 Above: Starbucks barista Alex Igarta hands a drink to a
customer at a store near the company's corporate
headquarters in Seattle. (Elaine Thompson / AP)
The Seattle Times
By Melissa Allison
March 10, 2009
Coffee City
"Melissa Allison tracks Seattle's — and the world's — caffeine addiction."
Starbucks does not know when it will open a support center for coffee farmers in Ethiopia that was scheduled to open last year, according to spokeswoman Deb Trevino. The economic slowdown, along with delays in opening a more regionally-focused center in Rwanda last year, have "made it challenging for us to move as quickly as we would like," she said in an e-mail. "We remain committed to opening a Farmer Support Center in Addis, but do not have an opening date to announce at this time." Read More.
Related: Starbucks to cut 6,700 jobs, close 300 stores
msnbc.com staff and news service reports
Wed., Jan. 28, 2009
Starbucks Corp. said Wednesday that it would cut as many as 6,700 jobs as it closes hundreds more stores and eliminates more positions at its corporate headquarters. Faced with slowing demand for lattes and cappuccinos because of the recession, Starbucks plans to close 300 stores, including 200 in the United States, and eliminate about 6,000 store jobs. The company also plans to eliminate about 700 corporate jobs, including about 350 at its corporate headquarters in Seattle. Read more.