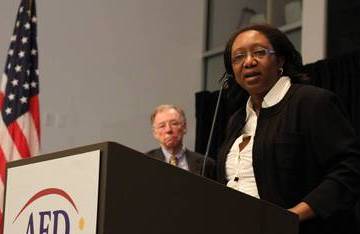 Above: At a conference earlier this year, entrepreneurs from
the U.S. African Diaspora were awarded grants for creative
business ideas to be implemented in their native countries.
Tadias Magazine
By Tadias Staff
Published: Wednesday, March 17, 2010
New York (Tadias) – The African Diaspora Marketplace (ADM) – a business plan competition designed to help finance innovative entrepreneurs from the U.S.-based African immigrant community – has awarded $1.4 million in matching grants to 14 businesses who are working in partnership with African-based ventures to promote job-growth in their native countries.
In a press release ADM announced that the grants are sponsored by Western Union and USAID, which provided $800,000 and $600,000 respectively.
The grant winners were chosen at an ADM conference in January after beating out 733 applicants and 58 finalists.
"Fourteen diaspora-driven businesses in seven countries were awarded matching grants ranging from $50,000 to $100,000," ADM said. "Winning entries ranged from a commercial plant tissue culture business that uses biotechnology to increase yield and quality of produce for Ethiopian agriculture producers, to a franchise business model that will empower female nurse entrepreneurs to improve access to healthcare and reduce the burden on government hospitals in Ghana."
California resident Raymond Rugemalira, founder of E & M Capital Corporation, was awarded funding for his business idea incorporating mobile technology, such as SMS messaging, to improve the efficiency of communication between buyers and sellers of crops, livestock, and farm produce in Kenya.
"I want to help improve the lives of small scale farmers by offering them markets via mobile phone technology so that they can concentrate on what they know best to do, which is to farm," Rugemalira said. "We will help get the buyer to come to them."
Citing USAID data, Reuters reports that "there are more than 1.4 million African immigrants in the United States, many of whom are entrepreneurs who operate small businesses in their native countries and send money back to their homelands. In 2008 an estimated $10 billion in remittance flowed back to sub-Saharan Africa from U.S.-based African diaspora members."
"The African Diaspora Marketplace has demonstrated that partnership and innovation can lead to powerful solutions to development challenges," said Karen Turner, Director of USAID's Office of Development Partners. "ADM highlights not only the value of public-private partnership but also the contributions that U.S diaspora communities can make."
According to its website, ADM is now accepting applications for new round of funding.
"ADM is currently seeking proposals for start-up and established businesses operating (or to be operated) through partnerships between U.S.-based members of the African diaspora and local Sub-Saharan African entrepreneurs. Following a rigorous two-round review and selection process, 10-20 winning businesses will be awarded matching grants of between $50,000 and $100,000 each. Grants to winners will be matched by investments of diaspora members and their partners on a one to one basis through a combination of financial and in-kind contributions. Proposals must be implemented in one of the following Sub-Saharan African countries where USAID has both on the ground presence and potential technical assistance programs for entrepreneurs: Angola, Burundi, Ethiopia, Ghana, Kenya, Liberia, Malawi, Mali, Mozambique, Namibia, Nigeria, Rwanda, Senegal, Sierra Leone, South Africa, Sudan, Tanzania, Uganda and Zambia."
You can learn more at: www.diasporamarketplace.org
Video: The African Diaspora Marketplace (Western Union)