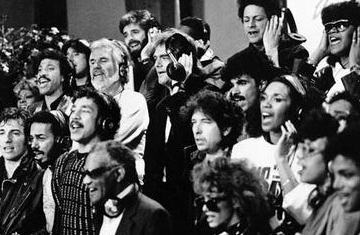 Above: Bob Geldof and Midge Ure organized the multi-nation
1985 Live Aid concert and 'raise funds for famine relief in
Ethiopia. (Photo: United Support of Artists for Africa)
Herald Scotland
By Russell Leadbetter
Published on 16 Mar 2010
It was one of the largest concerts of all time and raised £40 million for famine relief in Ethiopia, winning plaudits for its masterminds Sir Bob Geldof and Midge Ure. Now Scots musician Ure has voiced his anger at claims that Live Aid in 1985 – watched by 400 million people in 60 countries – had funds siphoned off to buy weapons for rebel groups in the country. The 56-year-old broke his silence on the allegation contained in a BBC World Service report. Speaking at the launch of CCW Long Play, a specialist management company aimed at musicians, Ure spoke out after he was asked how so many millions of starving Africans had been fed on the equivalent of just 5% of the funds raised. He said: "There's not a lot I can say about it just now because we're looking at litigation. It doesn't take a genius to figure out that if what is being claimed, that only 5% of the money has got through, what I would like to know is, what is the secret?
Related from Tadias Archives:
"We Are the World" – Live Aid concert's signature song
The wrenching images of hungry children, which invaded living rooms around the world in the mid 80′s, prompted Bob Geldof and Midge Ure to organize the 1985 Live Aid concert and 'raise funds for famine relief in Ethiopia'. The multi-nation event, which showcased some of the biggest names in the music industry, included Michael Jackson, who co-wrote the project's signature song "We Are the World" along with Lionel Richie. The song was recorded on the night of January 28, 1985, following the American Music Awards. Enjoy the song.