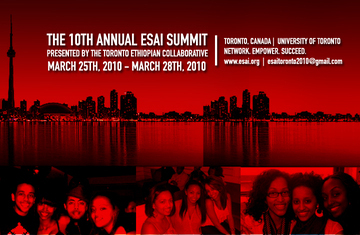 Above: The Ethiopian Students Association International will
hold its 10th annual summit in Toronto this week.
Tadias Magazine
Events News
Updated: Monday, March 22, 2010
New York (Tadias) – The Ethiopian Students Association International (ESAI) will hold its 10th anniversary summit in Toronto, Canada, from March 25th to March 28th, 2010.
ESAI, which was founded at Marymount University in Virginia in 1999 as an inter-campus network among Ethiopian students, will be hosting its annual gathering outside of the United States for the first time.
"We formed the "Toronto Ethiopian Collaborative (TEC)" to bring the 10th Annual ESAI Summit here to Toronto, the first international host city for the annual conference," Addis Embiyalow, Managing Director of the event told Tadias Magazine. "We are excited to celebrate this milestone in our city. The greater Toronto Area has upwards of 30,000 Ethiopian residents. Most Ethiopians do not know about the vibrant, dynamic Ethiopian community here."
According to the organizers, the three-day summit will feature various seminars, including a keynote address focusing on the digital divide.
"Our keynote speaker, Samson Teferra, will be addressing ways in which to bridge the technology gap between Ethiopia and the diaspora," Embiyalow said. "For the last ten years, ESAI has been creating scholarship opportunities, seminars, and various resources for networking, while maintaining its status as a primary source of info for collaboration."
Creating lasting relationships among the students remains the primary goal of the ESAI summit, says Elene Mekete, the group's Communications Director.
"It is one of the most anticipated reasons for attendance," she said. "The summit provides incredible networking opportunities and allows students and professionals to connect with each other."
If You Go:
10th Annaul ESAI Summit
March 25 – 28, 2010
Toronto, Canada
Learn more at: www.esai.org
Video: The 10th Annual ESAI Summit (March 25-28)

Video: The History of ESAI