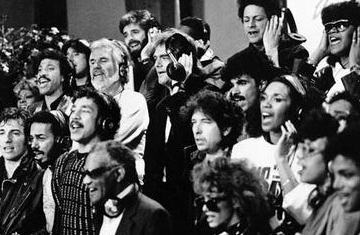 Tadias Magazine
By Tadias Staff
Published: Monday, June 28, 2009
New York (Tadias) – The wrenching images of hungry children, which invaded living rooms around the world in the mid 80′s, prompted Bob Geldof and Midge Ure to organize the 1985 Live Aid concert and 'raise funds for famine relief in Ethiopia'. The multi-nation event, which showcased some of the biggest names in the music industry, included Michael Jackson, who co-wrote the project's signature song "We Are the World" along with Lionel Richie.
The song was recorded on the night of January 28, 1985, following the American Music Awards.
Michael Jackson skipped the A&M Studios ceremony in Hollywood, California in order to prepare the song track as a guide for the rest of the singers, whom he helped persuade to participate in the charity concert. The documentary " We Are the World: The Story Behind the Song" , described by the New York Times as a film "which examines how the song was written, how producer Quincy Jones and songwriters Michael Jackson and Lionel Richie persuaded some of the most popular performers in America to donate their services to the project…," highlights Michael Jackson's important contribution to one of the biggest people-to-people humanitarian projects focusing on Africa. Participating artists included: Stevie Wonder, Bob Dylan, Diana Ross, Kenny Rogers, Tina Turner, Ray Charles, Harry Belafonte, Bob Geldof, and many more.
A quick search in Wiki about the song reveals an intense moment of artistic conflict during rehearsal:
"The dispute started when Stevie Wonder announced that he would like to substitute a line in Swahili. After a few rehearsals, a full-fledged creative conflict broke out. Geldof pointed out that Ethiopians do not speak Swahili. Michael Jackson then proposed to keep his original line "Sha-lim sha-lingay" but after a few rehearsals, it too ran into opposition, because it does not have a meaning. Eventually Al Jarreau cried, "We can make a meaning" and came up with "One World, our word" which was changed one last time in "One world, our children."
Watch: