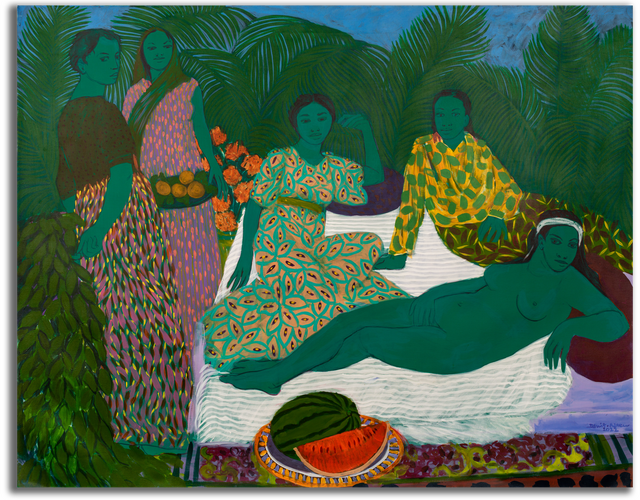 Tadias Magazine
Updated: March 22nd, 2023
New York (TADIAS) — Addis Fine Art is currently showcasing the first European solo exhibition by Ethiopian artist Dawit Adnew. The show, which marks the gallery's first of 2023, opened in February at their London gallery.
Dawit Adnew, born in 1973, presents a series of paintings that transport the viewer to a sumptuous and dream-like world, where languorous figures pose amid lush gardens overflowing with plants, fruits, and flowers. The artworks convey an atmosphere of perpetual calm, suggesting twilight, where color and pattern are sources of pure pleasure, much like Matisse or Gauguin.
Dawit's works are informed by his studies in African masks and iconography, and his use of patterns and fabric emerges from his background as a textile designer. He is based in Addis Ababa and studied at the Alle School of Fine Arts and Design. His artistic career has included participation in various exhibitions in Addis Ababa, Kenya, and Malta.
Addis Fine Art's exhibition of Dawit's works is a rare opportunity for European audiences to experience the vibrant, enchanting world he has created. The show is a must-see for art enthusiasts seeking a fresh perspective on contemporary African art.
ALLE LEGENDS: GROUP SHOW
And in Ethiopia, art enthusiasts have only a few days left to catch the 'Alle Legends' exhibition at Addis Fine Arts gallery before it closes on Sunday, March 25th.
The exhibition is a large-scale group show featuring works from 19 artists who have played a crucial role in shaping and influencing successive generations of graduates from the Alle School of Fine Art and Design. Each of the exhibiting artists has spent time teaching and instructing at the renowned art school, and their personal experiences have helped to instill an environment of openness and exploration in one of the oldest art schools in East Africa.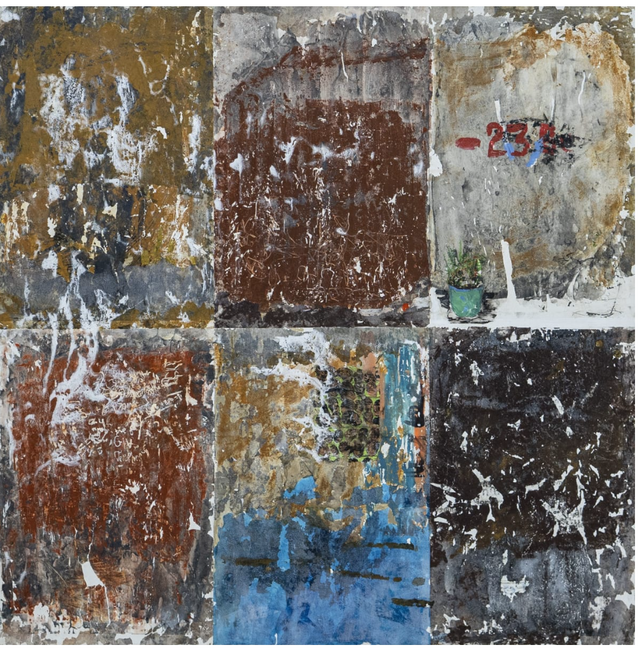 (Courtesy of Addis Fine Art)
'Alle Legends' serves to illuminate the individual practices of each artist, as well as their lasting impact on Ethiopian contemporary art. The exhibition turns the lens onto the educators, highlighting their contributions to the development of the country's artistic landscape.
The Addis Fine Arts gallery is known for its focus on contemporary art, and this exhibition is a testament to their commitment to showcasing the best and brightest talents from Ethiopia. The 'Alle Legends' exhibition is a must-see for those interested in the evolution of Ethiopian art and the influence of education on artistic practices.
Don't miss your chance to see this impressive exhibition before it closes on Sunday.
—
If You Go:
More info at addisfineart.com.
Join the conversation on Twitter and Facebook.