Tadias Magazine
By Tadias Staff
Published: March 28, 2008
New York (TADIAS) – It all started with a boring job that left graphic designer Nolawi Petros itching to do something artistic.
Designing test booklets for No Child Left Behind at his day job did little to satisfy Petros' appetite for artistic creation.
"The truth is, I was at a job where I didn't have a lot of creative things to do," Nolawi says.
So he decided it was time to launch Bernos, an online t-shirt vending company that now doubles as a sort of virtual Ethiopian community center through an active blog.
He had been kicking around the idea of starting a t-shirt designing and making venture for some time.
"If it works, it works; if doesn't, it doesn't," Petros said at the time, but he thought it was at least worth a try.
It did work.
In May 2005, launched Bernos with three designs: Addis Ababa Classic, a red shirt with the words "Addis Ababa" written in a font resembling Coca-Cola's, an Abebe Bekila shirt, and a shirt featuring Desta Keremela, the staple candy brand found in pretty much every souk in Ethiopia.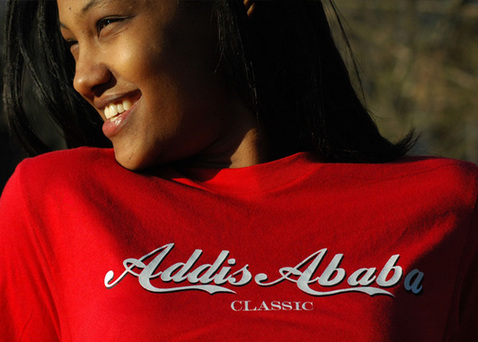 Above: Bernos shirt with the words "Addis Ababa" written in a font resembling
Coca-Cola's. (Photo: Bernos.org).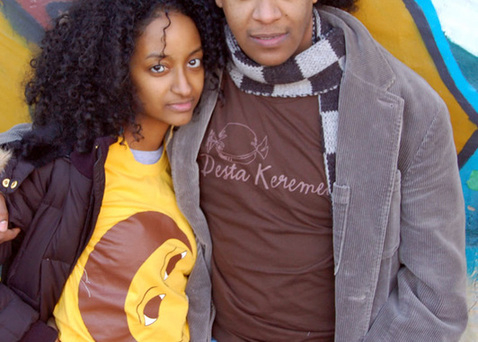 Above: A shirt featuring Desta Keremela, the staple candy brand found in pretty
much every neighborhood shop in Ethiopia. (Photo: Bernos.org).
The business is named after the heavy wool cloak that became a status symbol after being introduced to Ethiopia by the Arabs.
"Wearing the Bernos in Ethiopia was a lot like wearing a sheriff's badge in the American West," Bernos says on its website.
"Today, anyone can capture and celebrate some of Ethiopia's history and the status of the Bernos by wearing one of our unique t-shirts."
And if the fact that they've sold out of many of their designs is any indication, the Bernos t-shirt is a status symbol that more than a few people have bought into.
Petros says that for the 13 designs that the website has now, he's probably designed another 30 that he's decided to toss out or hold on to for later.
While Petros handles much of the design work, he has business partners handle the other elements of running a business: Dawit Kahsai handles finances, Meron Samuel is the head of marketing and sales, and Beshou Gedamu is Bernos' t-shirt model and photographer.
So far, the venture has been built on volunteer labor—the partners view their time as their primary investment in the business, Petros says.
The Bernos site gets about 500 hits a day, mostly Abeshas on the East Coast, Petros says, but although the Bernos team are Ethiopians (Dawit Kahsai is Eritrean), they don't see their venture as an "Abesha" or even an "African" brand.
Most orders do come from major U.S. cities with big Abesha populations: Oakland, Seattle, Washington, DC, and New York City, some order have popped up from more far flung locations—everywhere from Fargo, North Dakota to Mississipi.
Even though they've cornered the internet-savvy Abesha market that likes hip T-shirts, Petros says a little number-crunching reveals that market is still pretty small.
"Let's say there are 500,000 Ethiopians in the U.S.—out of those, 20 percent use the internet, (and of those, some) are into fashion or T-shirts. So, when you think about it, we don't have a big market," says Petros.
About 30 percent of the T-shirts go to non-Ethiopians, and Petros says they're trying to expand that number. That trend has been reflected in the shift in designs from the "Addis Ababa Classic" that launched the site to more recent designs named "Roots," and "d'Afrique," which have more pan-African appeal.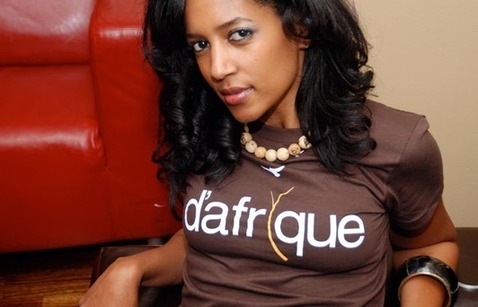 Above: "d'Afrique", a more recent Bernos design. (Photo: Bernos.org).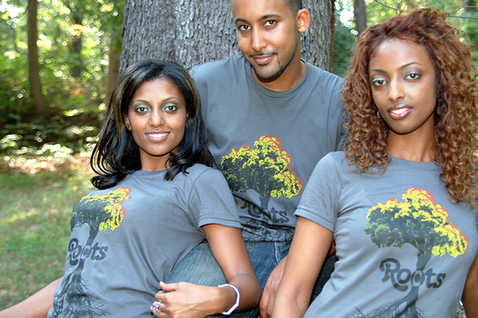 Above: Another recent design named "Roots," which has a more pan-African
appeal. (Photo: Bernos.org).
But Petros says he wants to branch out of that niche too.
"These t-shirts have mass appeal for all black people but also for white people," Petros said.
With t-shirts that garner a broader following, Bernos hopes their line will eventually be carried by a national clothing chain like Urban Outfitters.
—-
Learn More about Bernos Tees at Bernos.org
Join the conversation on Twitter and Facebook.