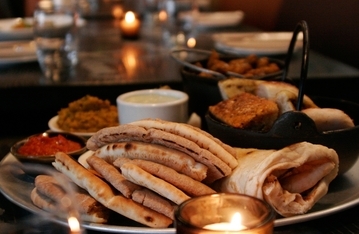 By Liben Eabisa
Photos by Jeffrey Phipps
Published: Monday, April 21, 2008
New York (Tadias) – I recently ventured to Gansevoort Street, the heart of the Meatpacking District in Manhattan, to interview Marcus Samuelsson at Merkato 55, his new restaurant venture named after the largest open-air market in Africa. Samuelsson's dishes, a sundry assortment of appetizers and entrees hailing from all four corners of the African continent are paving the way for Pan-African fusion to be the next big thing for New York foodies.
Certainly, traditional African cuisine has long been around in this city, teeming with immigrants, and we have had our share of authentic Senegalese, Moroccan, or Ethiopian dishes, but what Samuelsson's Merkato 55 aspires to provide to our palates is a distinct culinary adventure. It is as much a subtle re-introduction of traditional African flavors to the western taste as it is an advertisement for the continent's food contribution to the world.
Simulating the architectural hues, warm brown colors and landscapes across the African continent, Merkato 55′s interior, designed by Dutch architect Menno Schmitz, is a two-story restaurant and bar, capable of holding approximately 150 people. It is the largest African restaurant in New York. It's menu is equally daunting in its extensive offerings.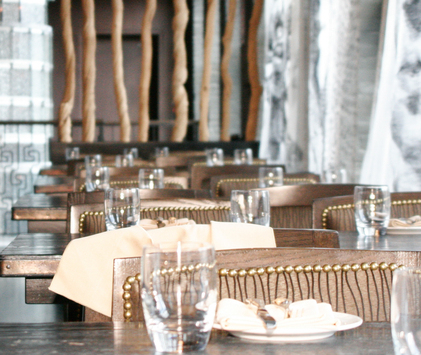 Above: Upstairs dining area . Photo by Jeffrey Phipps for Tadias.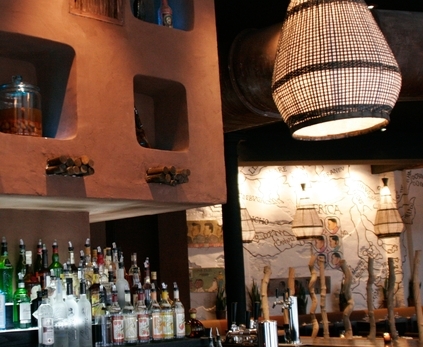 Above: The bar downstairs. Photo by Jeffrey Phipps for Tadias.
Samuelsson, who was born in Ethiopia and raised in Sweden, is best known as the co-owner of New York's finest Scandinavian restaurant, Aquavit. After having excelled at the Swedish side of his culinary heritage, Samuelson travelled extensively throughout the African continent, culminating his trips by sharing with us some of the most profound lessons that he learned about food and the sharing of food within African cultures, in his award-winning book aptly entitled The Soul of a New Cuisine.
Merkato 55 offers this new cuisine – a fusion of the old and new tastes, flavors, colors, and even sights of the scintillating diverse heritage of Africans.
"This is about adding something new to the New York landscape of restaurants", Samuelsson says to me. "It's an ambitious and grand New York African restaurant".
It is indeed daring to launch the largest African restaurant in New York, bound not to one region or ethnic food, but rather infusing Africa's indigenous foods with Samuelsson's own chef-inspired artistic experiments.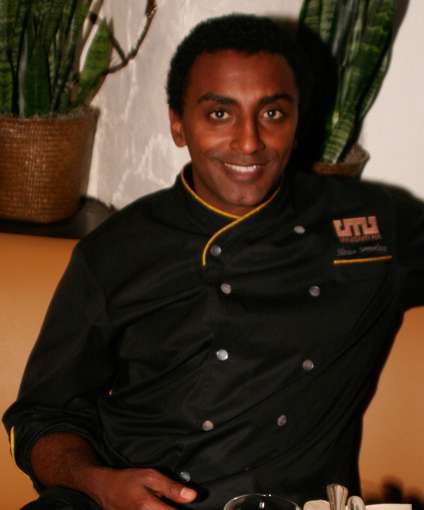 Above: Marcus Samuelsson sat down for an interview with Tadias
on Monday, April 14, 2008 at Merkato 55. Photo by Jeffrey Phipps for Tadias.
Samuelsson is unpretentious about the fact that his African-inspired dishes might not have the same authentic taste as those dishes that he watched being prepared, and which he tasted on his travels. He points out that what most New Yorkers consider as African restaurants mainly consist of Ethiopian, Moroccan and Senegalese ethnic eats. He mentions to me some of the great ones such as Ghenet, Queen of Sheba, and uptown Senegalese eateries.
Merkato 55, however, is very much an effort to introduce the flavors of various African cultures not only to Westerners but also to each other as Africans. Samuelsson points out, "We are very proud of our own food, but we know very little about each other's food. We know pan-African music, but we don't know pan-African cuisine. An Ethiopian might know music from Mali, but not food from Mozambique".
I can recall, in my case, not hesitating to mix an occasional meal of Mexican black beans and rice alongside Caribbean-inspired deep fried plantains, all in one sitting. But when it comes to Ethiopian food, I usually wouldn't venture to use our kibe (spiced butter) or the fiery mitmita pepper on anything more than my favorite kitfo (beef tartar) or our traditional stews.
In true fashion, I had carried this same cautious tradition when I dined at Merkato 55 with Tseday Alehegn, editor of Tadias, and our friend Assefa, an Ethiopian New Yorker from Brooklyn. After scouring through the menu for something 'Ethiopian', and hence familiar, we settled on a main entree of Dorot Wot (chicken stew) and Dulet (spiced tripe) preceded by an appetizer of Plantain Chips and Spicy Shrimp Chili. The Doro Wot was familiar enough with the traditional injera bread and cottage cheese in the pot, but the Dulet took us all by surprise. It tasted nothing like the tripe we grew up eating in our parents' and grandparents' homes so we spent a few minutes debating whether it was really Dulet or not. Yet, it was the dish that we unanimously voted was the best tasting one. Needless to say, the only thing that mattered is that it was simply delicious. Now, of course, we know that we can eat Dulet in more ways than one.
This is the genius of Marcus Samuelsson's fusion of African cuisine that brings creative "unity and harmony through food." Samuelsson's Merkato menu plainly asks us to be more assertive in our choices: How about a Berbere rack of Lamb with Grains of Paradise and Spring Garlic instead of the traditional Berbere with Injera? Perhaps even Grilled Shrimp Piri Piri as a side dish?
Beyond the borders that we place on what is or is not authentically African, there is a space, where Africa's culinary gifts are not left relegated to basement 'mom & pop' stores – segregated into national and ethnic enclaves.
Samuelsson puts it more succinctly, "We are trying to show Africa in a different light, without the masks."
How many of us know, for example, that the peanut butter that we fondly call 'All-American' was introduced to us straight from West African traditional cuisine? Rice, now a necessary global staple, has been part of the traditional West African diet since the 1500s and was successfully cultivated in the New World by the first Africans in the Carolinas. Spices such as coriander, grains of paradise and tamarind, and vegetables such as cucumbers and okra originated in Africa. Grains such as millet, quinoa, sorghum and teff, now popularly re-introduced in natural food stores as alternatives to wheat, have a long tradition of being served alongside spicy currys, breads or beans in East and West African cuisines. Even the beans for our daily fix of coffee are said to have originated in the Ethiopian highlands.
When we pause to reflect, we are already familiar with many of the ingredients commonly found in African-inspired menus. But Merkato 55 is bold – not only for mixing East and West, North and South, but also for unveiling the depth of African variety, the richness of the flavors, both those which are indigenous and those brought over to the continent through historical and colonial trade routes.
"I do know food and I have deep knowledge and love for African food" Samuelsson says.
And indeed it's time for a true connoisseur of food to give Pan-African cuisine its limelight and to break down our self-imposed restrictions of how to savor African cuisine.
I have learned my lesson. After my interview, Samuelsson prepared for us Grilled Shrimp Piri Piri Baby Romaine, inspired by a dish from Mozambique. I also had a taste of North African Hummus and Baba Ghanoush, Spicy Shrimp Chili and Apricot Blatjang with Mint from the Kidogo Sample, which includes an assortment of African Breads.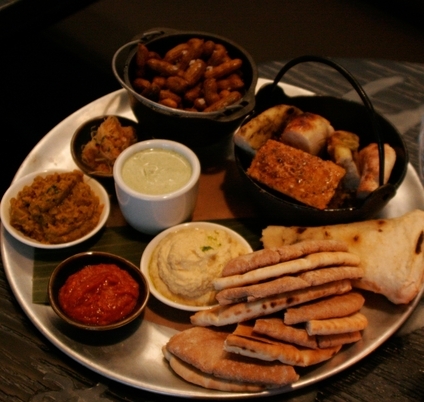 Above: The Kidogo Sample. Photo by Jeffrey Phipps.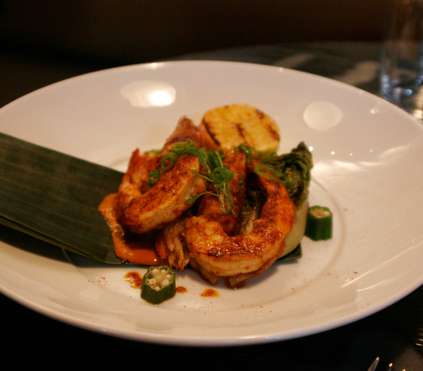 Above: Marcus Samuelsson prepared for us this Grilled Shrimp Piri Piri.
Monday, April 14, 2008. Photo by Jeffrey Phipps for Tadias.
Next time I am in the Meatpacking District, I may just as well try the Steak Dakar with Coriander Butter and Merkato Fries, and a glass of South African Wine.
Check back for Hot Shots: Photos from our interview with Marcus Samuelsson.
——
Liben Eabisa is Founder and Publisher of Tadias Magazine.
Additional reporting by Tseday Alehegn