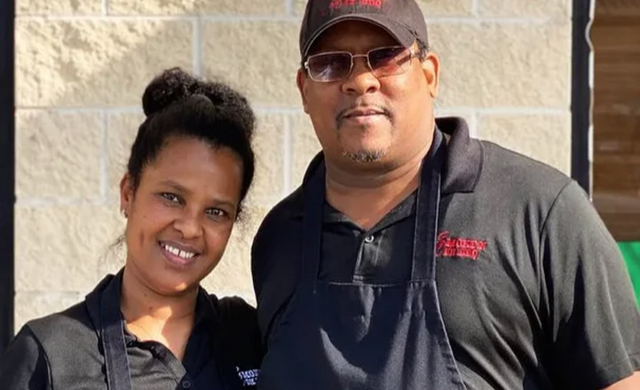 Tadias Magazine
Updated: March 29th, 2023
New York (TADIAS) — How does injera with Texas barbecue sound?
Well, that's exactly what you get at Smoke'N Ash BBQ – Tex-Ethiopian Smokehouse, a one-of-a-kind restaurant in Texas.
Owned by Fasicka and Patrick Hicks, this joint serves up traditional American BBQ with a unique Ethiopian twist: With a creative menu featuring dishes like Rib tibs, Shiro, brisket, Doro Wat, and Ethiopian veggie combos, it's no wonder Smoke'N Ash was named one of the top 50 restaurants in America by the New York Times last year.
The couple's journey started with Patrick's passion for barbecuing, which soon turned into a thriving business. Customers couldn't get enough, and the couple decided to take the leap and open their own restaurant.
According to their website: Fasicka, who was born in Addis Ababa, Ethiopia, and Patrick, a native of Waco, Texas, met in 1997 and quickly discovered their shared love of barbecuing. They began with a smoker trailer, selling BBQ dishes at weekend pop-ups, and eventually moved into a brick and mortar restaurant as their customer base grew.
As the business expanded, Fasicka added traditional Ethiopian family dishes to the menu, blending the flavors of Ethiopia with Texas-style smoked meats to create Tex-Ethiopian barbecue. Smoke'N Ash BBQ is now the first restaurant in the world to offer this unique cuisine.
Now, customers from all 50 states flock to try their famous Tex-Ethiopian BBQ.
Watch: Smoke N Ash restaurant combines Texas barbecue with Ethiopian spices
—
Related:
Texas barbecue with an Ethiopian twist: Meet the Arlington couple behind the fusion being recognized nationwide
Join the conversation on Twitter and Facebook.