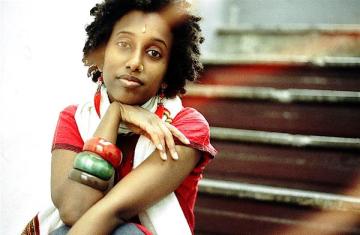 Above: Photo by Matthew E.
Helina Metaferia – This Issue's Featured Artist
Born in Washington D.C. to Ethiopian parents, Helina Metaferia is a painter, a yogi and graphic artist. She attended Temple University's Tyler School of Art and Morgan State University, where she obtained her BA in Fine Arts. She has exhibited her work at the Eubie Blake Cultural Center, the World Space Center, and the James Lewis Museum.
She is selected to appear as the first guest artist at the upcoming Addis Heights Millennium Arts Exhibition Series in Harlem, New York.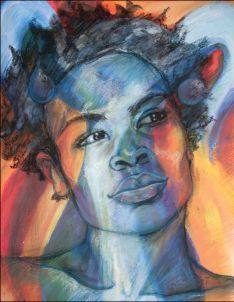 Above: Free Womban, acrylic, pastel and charcoal on paper, 18" x 24"
Artist's Statement:
The most sacred part of a woman is now reduced to a dirty word. What has once been celebrated and understood as a source of power and creativity is now being cut, abused, and condemned. Many women are taught to be ashamed and embarrassed of their own bodies, especially their wombs. A lack of emotional and spiritual connection to one's womb is the basis for physical disease, painful or irregular menstruation, misplaced sexuality, poor self-esteem, and other imbalances.

Above: Intuitive Womban, acrylic, pastel, and charcoal on paper 18" x 24"
The mixed media series, Finding Womban, is the visual depiction of women who are on a journey of liberation by healing and rejoicing in their own femininity. The striking and raw faces of women on a quest for soul identity are interwoven with rich subliminal backgrounds of abstracted wombs. The women in the paintings wear explorative expressions, each one seeking to reclaim a power beyond their gender and sexual nature. As the viewer searches for the abstracted wombs within the paintings, the viewer experiences a similar quest to the portrayed woman who, in turn, is searching for her own feminine essence.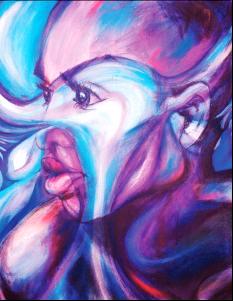 Above: Water Womban, acrylic, pastel, and charcoal on paper 25" x 35"
Creating these works of art has been a very vulnerable, intimate experience for me. I birthed each painting so I could begin the process of undoing negative conceptions, self-heal, and find strength in my own womanhood. Inspired by Queen Afua's book Sacred Womban, Finding Womban is about a journey that each female must endure to feel whole and free.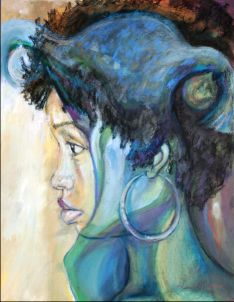 Above: Opening Womban, acrylic, pastel, and charcoal on paper 18" x 24"
Learn more about the artist at: metaartist.com
For details about Helina's upcoming show, visit libenslist.com