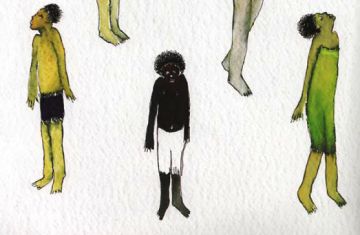 By George Preston
Publisher Reynold Kerr originally may have conceived of Our Mother Africa as a primary school primer on the common origin of all humanity in the horn of Africa. But it is much, much more. In fact, adults may gain more from this book than children. Here is why: it presents a science based explanation of the origins of mankind in Africa, their global dispersal and ostensible physical differences readily grasped educative and entertainingly by all readers from early childhood through adulthood.
To begin with, Our Mother Africa, the book, is the child of Mother Africa; the exhibition of classical African sculptures of maternity figures which was on view at the Schomburg Center in Harlem, New York (2002) before it traveled to the prestigious Centro Conde y Duque in Madrid (2004), accompanied by a symposium of internationally recognized scholars that included participation by the American, C. Daniel Dawson, Rogelio Martinez Fure of Cuba. The title of the catalog companion to the exhibition Mother Africa bears the name of the art exhibition and magisterially serves African motherhood with 96 superb photographs of sculptures from the length and breadth of the continent.
Our Mother Africa is a great foreign language primer. It is written in English, Spanish, French and Norwegian. Short paragraphs never longer than about fifty words each describe a single aspect of human similarity within diversity. The editing of syntax and the prodigious use of cognates actually allows a speaker of one of these four languages to teach himself any one of the other three.
A photograph of a classical African maternity figure accompanies each of these paragraphs from the original exhibit and an illustration by the painter and sculptor Gustavo Lopez-Armentia. Mr. Lopez-Armentia was a representative of Argentina to the Sao Paulo Biennale and exhibits annually at Reese Galleries on NYC's 57th street, making this a contemporary fine art book in its own.
It gets even better. Our Mother Africa is an excellent primer for the novice collector of African art or college students interested in getting a feel for the art styles of West, Central and East Africa. Thirty one illustrations of regional, ethnic and chronological styles including Coptic Ethiopia, sculptures of well known styles such as Baule, Yoruba and Kongo and lesser known works from the Sukuma, Kwere and others are accompanied by a descriptive text and locater maps. And now this: the public school system in the Dominican Republic has just ordered 20, 000 copies of Our Mother Africa.
Title in Amharic lettering: Addis Heights Font