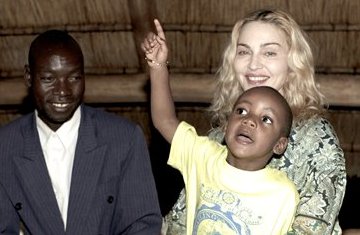 Above: In this photo made available by Madonna's publicist,
Liz Rosenberg, Madonna holds her adopted son David as they
meet with the boy's biological father, Yohane Banda, left, at
a lodge where the pop star is staying in Malawi, Monday March
30, 2009. (AP Photo/Tom Munro)
Source: AP
By CELEAN JACOBSON –
LILONGWE, Malawi (AP) — Madonna's efforts to adopt two youngsters from Malawi have drawn the paparazzi. But she isn't alone: Westerners are increasingly seeking to bring home children from Africa as traditional sources like China and Russia cut back on adoptions by foreigners. The rising number of adoptions from Africa — particularly by Americans in Ethiopia — comes as the AIDS epidemic ravaging the continent leaves more orphans in impoverished countries and surviving relatives are unable to care for them. Americans adopted 1,725 Ethiopian children in the 12-month period ending Sept. 30, 2008, about 70 percent of all U.S. adoptions from Africa, according to the U.S. State Department. The year before, 1,255 Ethiopian children were adopted by Americans. Read more.
Related: More Americans Adopting HIV-Positive Kids From
Ethiopia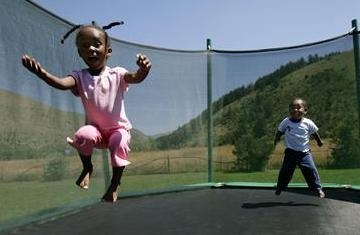 By Anita Powell | Associated Press
Photo: Douglas C. Pizac, AP
September 2, 2008 edition
ADDIS ABABA, Ethiopia (AP) — Solomon Henderson inherited just three things from his birth parents, who left him at an Ethiopian orphanage when he was 1 year old: a picture of Jesus, a plastic crucifix and HIV.
As one of some 14,000 Ethiopian children born with the virus every year, Solomon's prospects for survival — much less adoption — were grim. But Erin Henderson's heart stirred when she saw him, and she decided, on the spot, to adopt him.
"They told me that they weren't sure he would live through the weekend," Henderson said by e-mail from her home in rural Wyoming, where she lives with her husband and 11 children, two of whom are HIV-positive adoptees from Ethiopia.
Solomon, now an active 2-year-old with chubby cheeks and a shy smile, is part of a small but growing movement: Americans adopting HIV-positive children from abroad. Read More.
Related:
Hot Blog: Americans are Adopting Fewer Orphans Overseas
Except From Ethiopia