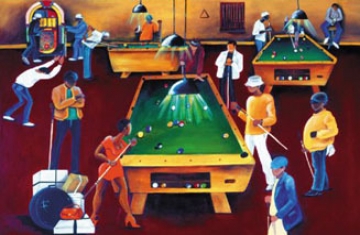 Tadias Events News
Published: Wednesday, April 1, 2009
Source: House of Art Gallery
New York – House of Art Gallery welcomes Ms. Annie Frances Lee – artist, gallery owner, and art distributor – in her first exhibition in Brooklyn.
Annie Lee is an internationally acclaimed artist and gallery owner known to art collectors the world over. Lee learned the ability to focus and stay on task from her childhood, because back then things were done on schedule–laundry on Monday, ironing on Tuesday, and so on. On Sunday the family would dress up and go to church. "Gimme Dat Gum!" recalls such a time. Annie thinks back with a warm smile on quarter parties, chicken in the box, saddle oxfords and the cute football player at Wendall Phillips High School, her alma mater.
A long time friend and school mate talked Annie into having her own show at his art gallery in 1985. The show was a tremendous success. Annie Lee is a humorist and a realist and her style has been referred to as "Black Americanna." Her works are in Bill Cosby's spin-off show "A Different World": Eddie Murphy's "Coming to America" and "Boomerang."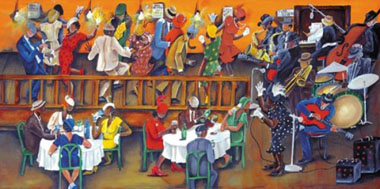 Above image: By Annie Lee, "Juke Joint"
(Medium: Limited Edition Giclee, Edition Size: 995, Size: 15″ x 30″)
Ms. Lee has extended her creativity to designing high fashion dolls and doll clothing. She creating figurines of the characters she has developed, publishing the works of other artists, and opening her second gallery, one even larger than her first venture in Hazel Crest, Illinois.
Cover image: By Annie Lee, "Cue-T" (Medium: Limited Edition Giclee, Edition Size: 995, Size: 22″ x 30″)
If you go:
Artist Opening Reception
Saturday, April 4, 2009
6:00pm – 10:00pm
House of Art Gallery
373 Lewis Avenue
(between MacDonogh and Macon)
Brooklyn, New York 11233
RSVP events@nychouseofart.com or
call (347) 663-8195
www.nychouseofart.com