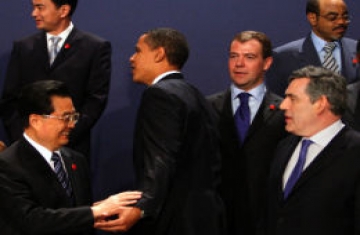 ABC NEWS
April 02, 2009 11:15 AM
Sources: Obama Plays Peacemaker in French-Chinese
Smackdown Over Tax Havens
April 02, 2009 11:15 AM
According to sources inside the room, President Obama just played peacemaker in a spat between French President Nicolas Sarkozy and Hu Jintao, President of the People's Republic of China. In the finaly plenary session among the G-20 leaders, Sarkozy and Hu were having a heated disagreement about tax havens. Read more.
Obama Gives Queen Elizabeth An iPod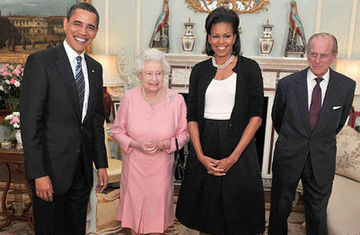 Above: The Obamas pose with Queen Elizabeth II and Prince
Philip.
Source: The Huffington Post
April 1, 2009
President Obama gave Queen Elizabeth an iPod during their private meeting at Buckingham Palace, the BBC reports. "It contains footage of her state visit to the US in May 2007. The Queen has given the president a silver framed photograph of herself and her husband. The official picture is what she gives all visiting dignitaries." Read more.
Obama, in Europe, Faces Big Challenges to Agenda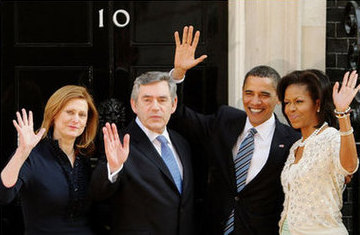 Above: Prime Minister Gordon Brown and his wife Sarah
with President Obama and his wife Michelle.
(Peter Macdiarmid/Getty Images).
NYT
BY DAVID E. SANGER
Published: April 1, 2009
LONDON — For nearly 30 years, American presidents have arrived at economic summit meetings with nearly identical talking points: the solution to most ailments lies in more economic integration, unleashing free markets and using a light touch to tame capitalism. As President Obama landed here Tuesday night to attend the Group of 20 summit meeting, and met Wednesday over breakfast with the gathering's host, Prime Minister Gordon Brown, almost every one of those principles appeared up for debate. Read more at The New York Times.
Hot Shot from the G-20 meeting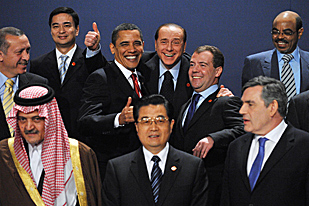 Prime Minister Meles Zenawi (top right) represented
Ethiopia at the 2009 the Group of 20 summit meeting.