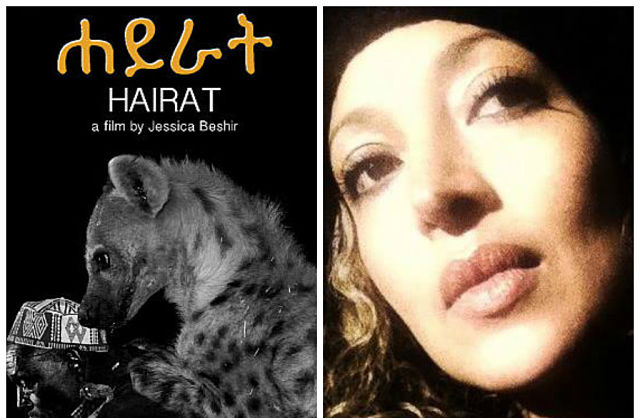 Tadias Magazine
By Tadias Staff
Published: April 1st, 2017
New York (TADIAS) — In her short film Hairat, Jessica Beshir goes back to Ethiopia to the city of her childhood "to tell the story of one man's extraordinary ritual that unfolds nightly in the outskirts of the walled city of Harar."
Hairat, which was screened at the 2017 Sundance Film Festival this past January, will make its NYC premiere at the Lincoln Center as part of this year's New York African Film Festival in May. The film was also shown this month at the Dallas International film Festival in Texas and the Rincon International film Festival in Puerto Rico. Hairat will premiere at the upcoming Arizona International Film Festival and the Pan African Film Festival in Cannes, France later this month.
"An Imam in Harar spoke to me about the meaning of Hairat at length, but in short it means, 'You are where you need to be,'" Jessica says.
Trailer | HAIRAT from Jessica Beshir on Vimeo.
In addition to Hairat Jessica also has two additional short films, Heroin and He Who Dances on Wood , premiering at various festivals across the U.S.
In Heroin, which make its world premiere at the 2017 Tribeca Film Festival in New York City on April 20th & 21st, Jessica grapples with the question of free will as she "explores the creative process, inspiration and alternative reality of an artist."
The short film He Who Dances on Wood highlights tap dancer Fred Nelson. BRIC TV describes it as "one man's search for joy..culminated in a constant experience of rhythm in the world around him. Something so simple, yet beautiful, found its way into Fred's life in the form of dancing on an old piece of wood." He Who Dances on Wood will make its NY premiere at BAM's New Voices in Black Cinema series on April 30th, and its international premiere at the 2017 Hot Docs Canadian International Documentary Festival in Toronto taking place in early May.
Watch: 'He Who Dances on Woods' — A short film by Jessica Beshir trailer
He Who Dances on Wood (TRAILER) from BRIC TV on Vimeo.
—
Related:
Ethiopia: Director Jessica Beshir's 'Hairat' Selected for Sundance Film Festival 2017
Join the conversation on Twitter and Facebook.