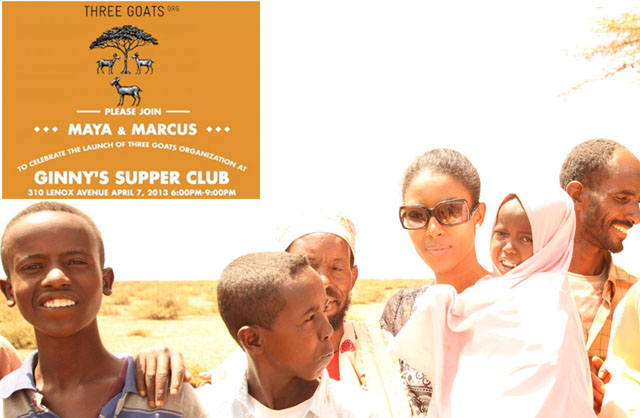 Tadias Magazine
By Tseday Alehegn

Updated: Monday, April 8th, 2013
New York (TADIAS) – When model and philanthropist Maya Gate Haile visited Ethiopia in November 2011 she headed to Togowichale, a small border town sitting between Ethiopia and Somalia – a place needing dire assistance where she delivered resources collected from a fundraiser she had hosted with her husband, Marcus Samuelsson, at their home in Harlem. In return for her work the people of the town gave her three goats as a token of their appreciation. Maya was sincerely touched by their gesture of thanks and vowed to continue dedicating herself to improving the health and well-being of children, women and families in the country.
"We flew from New York to Addis and from there we took a plane to Harrar then went to Jijiga and drove for five hours to Togowichale," Maya says. "The residents in Togowichale have no clean water, there is no medical clinic, there is hardly any school for young people." She added: "The place needs many things but what we can do is start somewhere by giving hope."
Three Goats Organization, a New York based non-profit, has now been established to promote and support social entrepreneurial projects in various regions of Ethiopia. Programs include providing access to clean water via wells and innovative water purification systems as well as focusing on increasing retention rates and access to education for young girls.
By incorporating and designing nutrition workshops and developing recipes from local produce for balanced nutrient intake Three Goats organization aims to reduce the time spent by young girls on cooking chores, which usually keeps them away from attending school as regularly as their male peers. Children are also often pulled out of school to help their families earn income and the Three Goats' City Food program will focus on increasing school attendance by providing food from local producers to assist struggling families to purchase food and offset inflation and high cost of living. Workshops are also being developed for farmers to assist them on how to diversify their crops. In addition, the Change Through Dialogue program offers funding for seminars, conferences, and academic workshops that focus on developing sustainable and entrepreneurial models to reduce chronic poverty as well as to provide mentoring opportunities for youth.
The inaugural launch of Three Goat organization was held on Sunday, April 7th, 2013 at Ginny's Supper Club in Harlem.
Click here for Photos from Three Goats Org Inaugural Launch at Ginny's Supper Club.
–
To learn more and support please click here.
Video: "HORN OF AFRICA" by THREE GOATS ORG. (ThreeGoatsTV)

–
Join the conversation on Twitter and Facebook