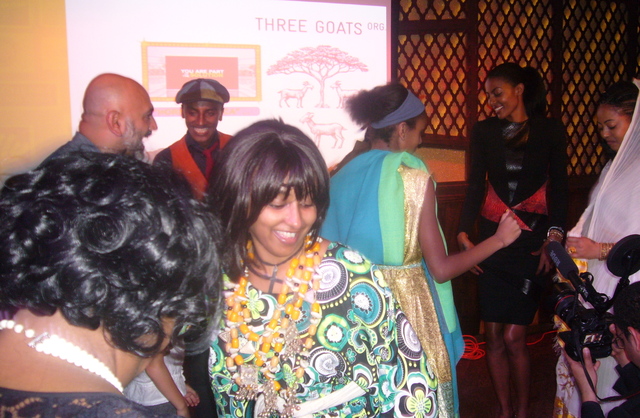 Tadias Magazine
Events News
Published: Monday, April 8th, 2013
New York (TADIAS) – Below are photos from the launch of Three Goats org at Ginny's Supper club on Sunday.
The New York based non-profit was established by model and philanthropist Maya Gate Haile inspired by her visit to Togowichale, Ethiopia two years ago. She had traveled to the small border town located between Ethiopia and Somalia to deliver much needed resources collected from a fundraiser she had hosted with her husband, Marcus Samuelsson, at their home in Harlem in November 2011. In return for her efforts the people of the town gave her three goats as a token of their appreciation.
"I was very touched and although I could not bring the gift to New York, I promised to bring the story with me," Maya said at Sunday's gathering in Harlem. "That's how the organization was named."
Three Goats aims to promote and support social entrepreneurial projects in various regions of Ethiopia. Programs include providing access to clean water via wells and innovative water purification systems as well as focusing on increasing retention rates and access to education for young girls.
Here are images from the launch event at Ginny's Supper Club in New York on Sunday, April 7th, 2013.

—
Related:
Three Goats Org Inaugural Launch at Ginny's Supper Club
–
Join the conversation on Twitter and Facebook