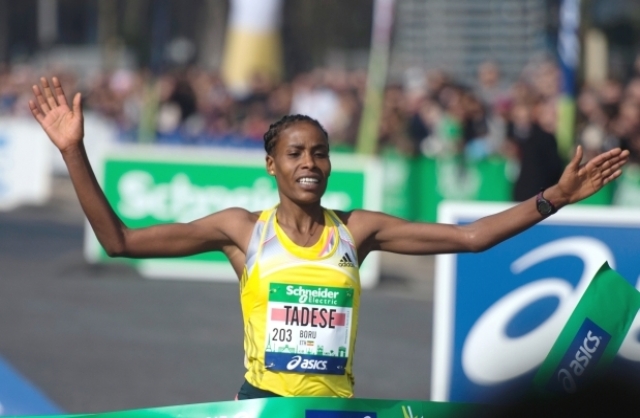 Tadias Magazine
News Update
Published: Monday, April 8th, 2013
PARIS — 24-year-old Ethiopian long-distance runner Feyse Tadese Boru won the 2013 Paris Marathon on Sunday.
In the men's race fellow countryman Tadese Tola finished second behind Kenya's Peter Some who won the 37th annual competition in the second-fastest course record time.
Feyse set her own record in the women's race finishing in a historic time of 2:21:06, two minutes ahead of the runner-up, her teammate Merima Mohammed. Kenyan Eunice Kirwa came in third.
Kenya's Peter Some & Ethiopian Feyse Tadese Win Paris Marathon (The Washington Post)
Paris Marathon: Men's winner posts second-fastest time ever, women's winner sets record (AP)
—
Related:
Carlsbad 5000 thrice as nice for Ethiopia's Gebremeske (UT San Diego)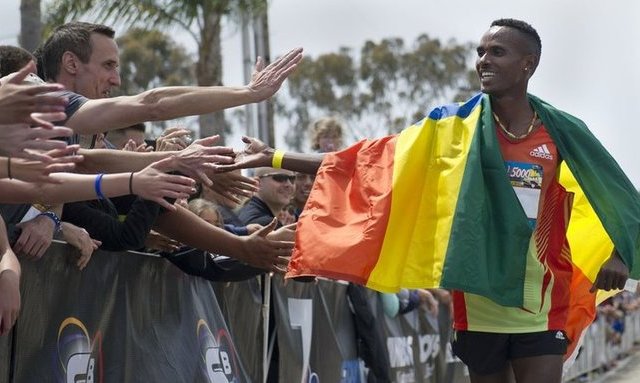 Dejen Gebremeskel, of Ethiopia, celebrates with the crowd after winning his third consecutive Elite Men segment of the Carlsbad 5000. (Andy Wilhelm)
CARLSBAD — Dejen Gebremeskel came to Carlsbad wanting to add his name to the Carlsbad 5000 record book.
"I wanted to make history for Carlsbad," Gebremeskel said after becoming just the fourth man to become a three-time winner of the Carlsbad 5000. "This is one of the big races for 5K, so to win two times was big for me. And now to win again, it's even bigger."
Read more at U-T San Diego.
–
Join the conversation on Twitter and Facebook