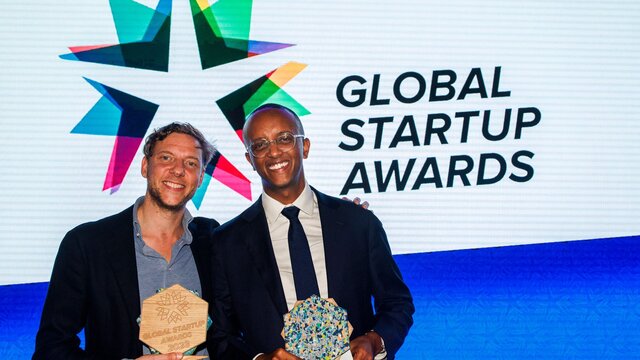 Tadias Magazine
Updated: April 4th, 2023
New York (TADIAS) — An Ethiopian environmental technology company, Kubik, has been named winner of the 2023 Global Startup Awards, the largest independent startup ecosystem competition in the world.
Kubik, which turns plastic waste into low-carbon, low-cost buildings, won the GSA's Startup of the Year category. The award highlights the company's contribution to sustainable development.
Kubik's chief executive and co-founder, Kidus Asfaw, told Tadias Magazine the award serves as an inspiration for African entrepreneurs. He expressed hope that the world takes note and recognizes the continent's potential for groundbreaking innovations.
"I hope this serves as an eye opener to the world for what Africans can do," Kidus said. "And I hope African entrepreneurs draw inspiration on what they can achieve on the global stage."
The venue for the event was Copenhagen, Europe's celebrated green capital, which is also the location of the GSA's headquarters.
This year's awards ceremony also included investor delegation and meet-ups. These events provided startups with the chance to connect with potential investors and like-minded individuals who could offer support and resources for their growth and development.
Emata, a Ugandan fintech startup, won the Best Newcomer award for its innovative approach to providing affordable digital loans to smallholder farmers. The company has revolutionized the loan process by automating data collection, credit scoring, and loan disbursement. Emata offers loans as small as UGX 60,000 (approximately $15), providing previously inaccessible financing to farmers.
According to Jo Griffiths, co-founder of the GSA Africa and the Global Innovation Initiative Group, these awards serve to identify and celebrate future-shapers while building a global network of innovation organizations. She said that startups mastering technology and innovation will shape the future.
In a message to Tadias, Kidus emphasized the capability of Africa and his home country of Ethiopia to become a hub for innovative solutions and contribute to the promotion of global ingenuity.
"The potential of our continent and country to serve as launchpads for global innovations is tremendous," Kidus stated in his message.
"It deeply humbles our team at Kubik to showcase one of so many of these African innovations."
—
Join the conversation on Twitter and Facebook.