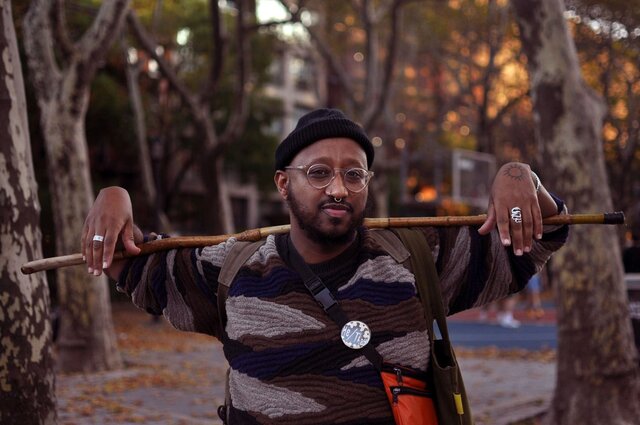 Tadias Magazine
Updated: April 11th, 2023
New York (TADIAS) — Danny (DA) Mekonnen's new single, "Unicode 1200," pays homage to the first letter of the Ethiopic script, which is assigned the unique number U+1200 as part of the international encoding standard. This standard ensures that the language is accessible across all computer platforms, programs, and devices.
As Mekonnen explained to Tadias Magazine: "The title is a nod to communication in the information age and the universal system for encoding and text, which was developed in part by Ethiopian-American Engineer Fesseha Atlaw. "U+1200″ is the first character, "Ha," of the Ethiopic alphabet."
As a first-generation Ethiopian-American, DA Mekonnen spent his formative years in Texas before studying music at Harvard University. He gained recognition as the founding member and leader of Debo band, whose innovative approach to Ethiopian music has earned them invitations to perform at prestigious venues and events worldwide. Some of these include the Montreal Jazz Festival, New Orleans Jazz & Heritage Festival, Lincoln Center, The Kennedy Center, South by Southwest, Sauti za Busara in Zanzibar, and the Ethiopian Music(s) Festival in Addis Ababa.
Mekonnen's new album, "dragonchild," features "Unicode 1200″ and is set to release this month on FPE Records. The project's name is inspired by the 2008 film "Teza" by Haile Gerima. Mekonnen will premiere his new project at the National Sawdust in Brooklyn on April 15th.
"I will present a 75-minute concert of new music and video," Mekonnen told Tadias. "The video includes original artwork by the photographer Michael Tsegaye and found footage by Olani Ewunnet."
The title of the project, "dragonchild," refers to a line in the film "Teza," where the protagonist returns to his small village after spending a long time in Germany and Addis Ababa. The movie ends on an optimistic and mysterious note: "we are children of the dragon, do not despair." The dragon in reference is Erta Ale, an active lava lake in Ethiopia. Michael Tsegaye's photographs of Erta Ale are included in the album artwork.
In his conversation with Tadias, Mekonnen described how "Unicode 1200″ utilizes clapping and tom-tom drums to provide a solid foundation for the lilting saxophone and dancing keys. The song's stripped-down arrangement serves to accentuate the beauty of the Ethiopic language and honor its worldwide accessibility thanks to modern technology.
More about the album (Excerpts from Press Release)
Dragonchild takes the exploration of Ethiopian music Mekonnen began with Debo Band and explodes it into vivid, three-dimensional space. Where Debo called back to the sounds of 1970s Addis and added original material along those same lines, dragonchild shatters traditions and boundaries, incorporating sampled material, field recordings, experiments in high and low fidelity, and the throughline that unites the diverse sounds, layers of Mekonnen's rich and ecstatic saxophone. "I've been thinking a lot about ego death and being willing to let certain things go," he says. "Things that made you feel good about yourself, made you feel really successful. I think artistically those things can be really dangerous. They can be dangerous crutches." In moving beyond what brought him success in a fickle industry, he is braving new territory to bring us something more, something vulnerable and alive.

The name of the project derives from Haile Gerima's 2008 film Teza, the story of an Ethiopian lab researcher who returns to his small village after long sojourns in both Germany and Addis Ababa. Near the end of the film, there is the hopeful but enigmatic line "do not despair – we are children of the dragon," which evokes the resilience of the people and of the earth. It's a nod to Erta Ale, the active lava lake in Ethiopia photographed by Michael Tsegaye for his Afar series, included as part of the album artwork and recognized instinctively by Mekonnen as "portraits of the dragon."


(Photo: by Michael Tsegaye)

Although the seeds of this music were solitary, collaborations abound in the dragonchild universe, with artists as diverse as ambient producer claire rousay, the Addis Ababa based multi-instrumentalist Ethiopian Records, and percussionist Sunken Cages. These duets fly freely across the borders of genre, stretching out like long late-night conversations between close friends, work created as an expression of community, abundance, and freedom. The physical form of the record is an eight channel, four LP mix of the final track and centerpiece of the album, a twenty-minute-long saxophone meditation. It is no coincidence that this mix is impossible to listen to alone. In order to experience it fully, you will need three friends and four turntables.

The photograph that occupies the front cover, also taken by Michael Tsegaye, is of another photo, one placed under glass in a cemetery as part of a common practice in Addis Ababa. Over time, water damage cracked and weathered the glass, and at first what you see are the sharp and irregular fractures, rendered with extreme clarity. It is only on second glance that you see the true subject of the portrait, the ghostly ancestor gazing out from the past. "We have to fight for our lives," Mekonnen says. "That's the thing that I feel most adamant about. Our creativity is our birthright." With dragonchild, he gives voice to a new sound, hundreds of years of Ethiopian and American music all resonating at once. "The record feels and breathes to me like the Ethiopian music I've been trying to figure out my whole life."
—
If You Go:
TOUR DATES
4/15 – Brooklyn, NY @ National Sawdust
5/12 – Northampton, MA @ Collider Fest *
Join the conversation on Twitter and Facebook.